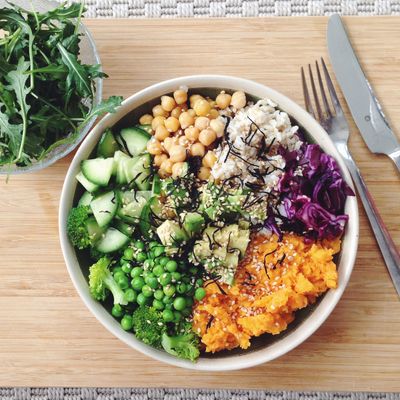 Many people have wondered whether vegan or vegetarian diets are healthy for pregnant women or infants, particularly after horror stories emerged in recent months of kids becoming malnourished after their parents fed them plant-based diets. However, according to new guidelines by a leading group of nutritionists, plant-based diets are actually really healthy for just about everyone to follow, as long as they're well-balanced.
Nearly 3.3 percent of all American adults are vegetarian or vegan — diets that are way more common in younger adults than elderly people, according to the new guidelines in the Journal of the Academy of Nutrition and Dietetics. All in all, plant-based diets are "healthful, nutritionally adequate, and may provide health benefits for the prevention and treatment of certain diseases," the Academy of Nutrition and Dietetics wrote in their position statement. That's largely because people who follow these diets typically eat less salty and sweet snacks, and more fruits and vegetables.
The recent terrifying instances of "vegan" diets harming children occurred when their diets lacked proper nutrients. It's essential for people who follow plant-based diets, or feed them to their children, to make sure that their meals are planned out and well-balanced, registered dietitian nutritionist Vandana Sheth, of the Academy, told Reuters. Vegan and vegetarian children, in particular, need diets that are rich in iron, zinc, and vitamin B-12, as well as calcium and vitamin D in some instances.
"Any diet that is not well planned and balanced can have negative side effects. Just because foods are plant based doesn't automatically make them healthy. For instance, pastries, cookies, fried and salty foods may be vegan but don't really provide much in terms of nutritional value."
The Academy's new position on vegan and vegetarian diets will remain in place until December 2021.