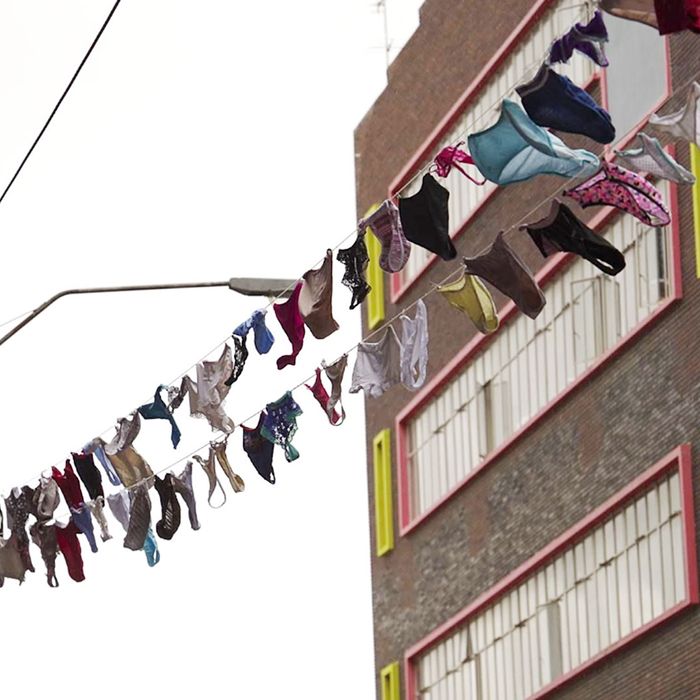 Thousands of pairs of underwear are on display in Johannesburg.
Photo: Courtesy of Twitter/TheObjective_es
South Africa has the highest rate of rape in the world, and two women artists are drawing attention to the issue in an eye-catching way. Jenny Nijenhuis and Nondumiso Msimanga hung 3,600 pair of donated underwear around Johannesburg, South Africa, as part of an art installation to draw attention to the country's rape epidemic.
According to The Guardian, the installation consists of washing lines almost 4,000 feet long displaying 3,600 pairs of underwear — a number that matches the Medical Research Council's estimate of the number of rapes that occur in South Africa every day.
Nijenhuis and Msimanga have been criticized for using the Medical Research Council statistic — the United Nations estimates that only 132 rapes are committed in South Africa each day, and the website Africa Check concluded that the artists' methodology is flawed. But the artists responded by pointing out that all attempts to quantify sexual assault are flawed.
"The numbers around crime statistics, rape and sexual abuse in South Africa are all flawed in some way and trying to practically settle on any one is near impossible," they wrote in a statement. "So yes, our numbers and our methodology are flawed, much like all the numbers, methodology, reporting and research around crime statics, rape and sexual abuse." They went on:
SA's Dirty Laundry intends to bring the secrecy and shame around rape and sexual abuse to the fore in a way that would not be ignored and which, in addition to poor handling by government and police around the issue, keeps people from reporting or talking about it, debilitating the possibility of real change.