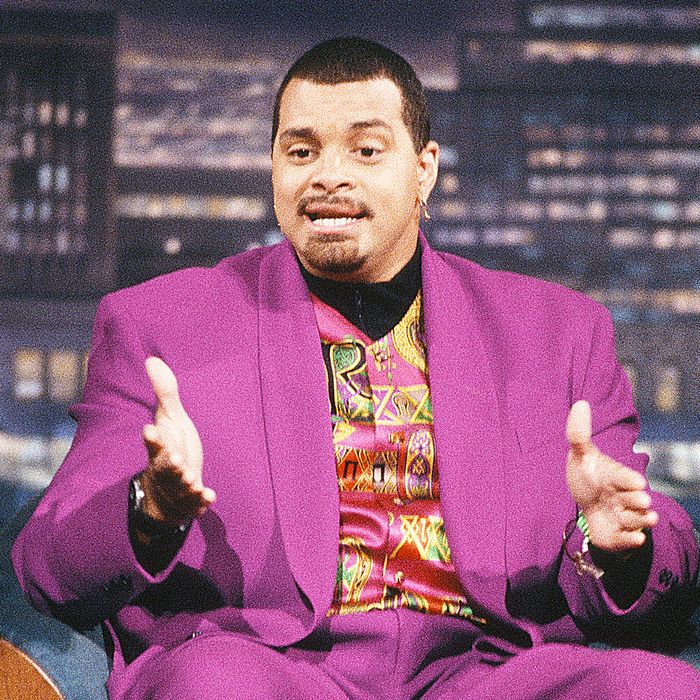 Sinbad.
Photo: Wendy Perl/NBC via Getty Images
Being a 1990s comedy legend is a weird enough life. But what if entire internet communities were dedicated to proving that you were in a movie that never existed? Such is the bewildering case of David Adkins, better known by his stage name Sinbad.
You may know Sinbad by his host of films, such as Jingle All the Way, Necessary Roughness, and Good Burger. But as Amelia Tait chronicles in The New Statesman, lots of people think they recognize him from a movie that never happened: Shazaam, a movie in which Sinbad stars as an affable genie. Reddit, that hotbed of the internet, is particularly convinced that the movie did happen, and people share lots of detailed memories. The cover, recalls one 27-year-old Canadian, had "a purple background, featuring Sinbad dressed as a genie, back to back with a boy who looks about 11 or 12 years old." She added: "Sinbad has an annoyed expression on his face."
Tait's long form is as humorous and mystifying as the leading man it's structured around, and her tentative conclusion is that the movie must have been misremembered as a twin with Kazaam, wherein NBA star Shaquille O'Neal is the affable genie. Twin movies, where nearly identical films come out in the span of a year, happen lots, like Tombstone and Wyatt Earp; Antz and A Bug's Life; or Olympus Has Fallen and White House Down.
According to Tait's reporting — and Sinbad's chagrin — Twitter users wonder aloud about the "Sinbad genie movie" almost every day.
It's another strange, unsettling example of how human memory is not like a computer's. Tait talks to Henry Roediger at the Washington University Memory Lab, who tells her that "the social contagion of memory" is a documented thing in psychology, where someone else recalling an event to you will shape your own recollection. "One person's memory infects another," he said. It has legal implications: In experiments, when participants were told that a car crash they watched a video of had one automobile smashing into another, they'll recall broken glass they never saw. It explains why so many convictions built on eyewitness testimonies get overturned by DNA evidence.
The takeaway: Memory is social, flexible, or imperfect. Either that or, as one source tells Tait, we're living in a computer simulation being run by advanced beings, and they decided to erase the Sinbad movie from the culture. I mean, how couldn't that be the case?