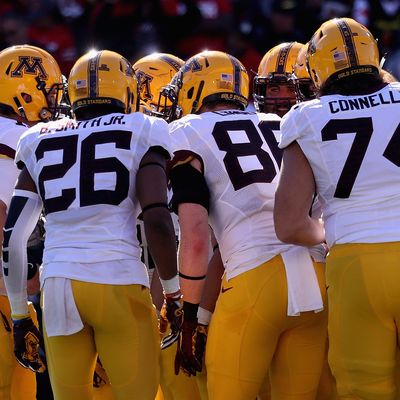 Good talk, guys.
Photo: Rob Carr/Getty Images
University of Minnesota football players were all set to boycott the Holiday Bowl to show support for ten teammates suspended on allegations of sexual assault, right up until they read the 80-page report about the investigation.
Drew Wolitarsky, the team's senior wide receiver, said in a public statement last Thursday, "We're concerned that our brothers have been named publicly with reckless disregard in violation of their constitutional rights … This effort is by players, and for players." (His teammates were suspended on Tuesday.)
However, it seems Friday night's meeting with the university president, Eric Kaler, had the team changing their tune. During that meeting, most of the players were given access to the 80-page sexual-assault investigation against their teammates. The sobering details "changed the narrative" for the players.
According to the Minnesota's Star Tribune:
"The [Equal Opportunity and Affirmative Action] report, the result of the school's federally mandated investigation of the alleged sexual assault, described in deep detail how a female student and more than 10 men were involved in an incident in the early morning of Sept. 2, hours after the Gophers' first game of the season."
At 9:00 a.m. Saturday morning, Wolitarsky made an official statement about the boycott, noting, "As a team, we understand that what has occurred these past few days, and playing football for the University of Minnesota, is larger than just us." They will begin preparing for the Holiday Bowl as soon as possible — without their ten suspended teammates.