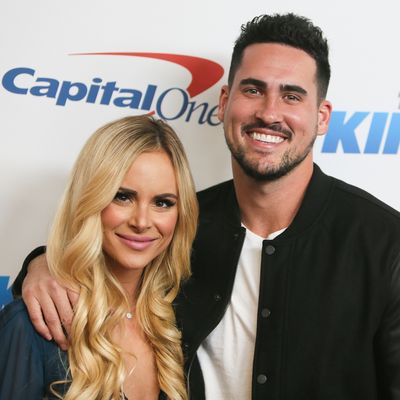 Photo: David Livingston/Getty Images
Bachelor in Paradise's Amanda Stanton and Josh Murray have called it quits just months after finding un-airconditioned love on the beaches of Mexico. Together, they vanquished haters and naysayers and, one supposes, the inevitable health problems that arise from wearing soggy bathing suits for weeks — yes, even despite the machinations of one Nick Viall, Stanton and Murray brought their love back to the real world. Alas, it was not to last.
The couple had danced around the issue of their relationship status on social media Friday, teasing a breakup that went unconfirmed until Us Weekly found "a source close to the couple" — Jorge the bartender, is that you? — that confirmed the split.
Although initially it seemed like Chad would be the douchiest bachelor in paradise that season, Chris Harrison kicked him off in short order, leaving the meat-loving alpha male reeling in shock. Josh quickly took over as King Douche, with his short temper, nearly erotic appreciation of pizza, and allegedly emotionally abusive relationship with former Bachelorette Andi Dorfman, drawing the concern of everyone on the island, even the unstoppable Canadian horndog Daniel.
Stanton was one of the most-desired contestants on the show, and at first it looked like she would get together with Viall. However, she picked Murray instead, and now Viall is the next Bachelor. Will she pull a Nick and show up on his season? We can only hope. We can only hope.