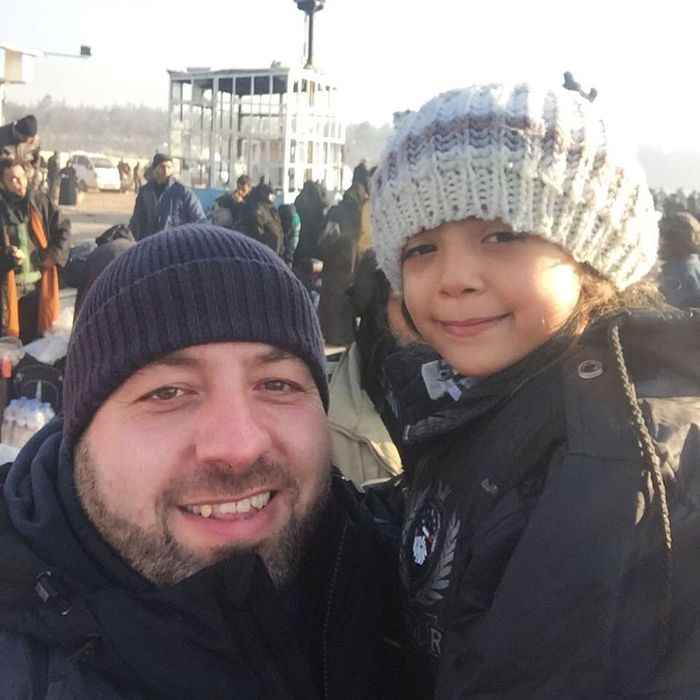 Bana Alabed (right) with a medical worker (left) after escaping East Aleppo.
Photo: rabiih/Twitter
Finally, some good news: Bana Alabed, the young Syrian girl who had been live-tweeting her experience living through horrifying air strikes in East Aleppo, was safely evacuated from the war-torn region on Monday with her mother.
Alabed and her mother started tweeting about the horrors they were facing in East Aleppo in late September — and quickly amassed more than 329,000 followers across the world. The 7-year-old girl tweeted about her desire to go to school like a normal child, of the airstrikes that they faced daily, and of her desire to safely escape. And on Monday morning, the president of the Syrian American Medical Society posted a photo of the little girl with a medical worker, showing that she had escaped.
CBS News reports Alabed and her mother arrived in the countryside west of Aleppo alongside "many" other children "from the former opposition enclave of eastern Aleppo." There had reportedly been mass evacuations of civilians from the area early on Monday during a "fragile cease-fire." Alabed's mother, Fatemah, last tweeted from her daughter's account on Sunday, urging Turkish leaders to "make this ceasefire work" and get them out of the country "now."
Fatemah spoke with Qasioun News Agency on Monday, saying that she and her daughter made the Twitter account with the hopes of telling the world about the suffering facing the residents of Aleppo. "We are happy because our voice reached to all the world. We are free," she said.