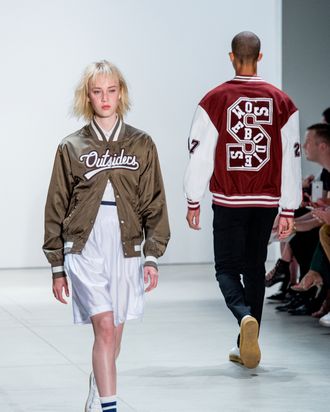 Band of Outsiders spring 2017
Photo: Roy Rochlin/FilmMagic
Remember zombie Band of Outsiders? The quirky, preppy brand that came back from the dead after a brief hiatus, this time designed by a team of Belgian designers rather than founder Scott Sternberg? Well, now we can look forward to reboot number two. Yes, already. Women's Wear Daily reports today that after only a season, the brand, owned by holding company CLCC SA, is changing creative hands again. They are exchanging the Belgian design team for a new crew, composed of brand director Daniel Hettmann, designer Angelo Van Mol, and unnamed others who will now be overseeing the label. The brand will also go back to its roots in menswear, with upcoming appointments during Paris and New York fashion weeks, and has eventual plans to return to womenswear.
In Hollywood terms, this is like if Netflix started producing Even Fuller House. The quick changing of the guard likely has something to do with the tepidly received spring 2017 outing, which sometimes felt like an awkward translation of Sternberg's all-American aesthetic. Vogue Runway called it a "hodgepodge of ideas that have been better effectuated on other runways," while the L.A. Times said that to compare Sternberg's original with the spring 2017 collection "is like saying that The Joy of Cooking and Mother Goose Nursery Rhymes are sort of the same book because they both mention lamb." (That one deserves a sizzle sound effect.)
It seems like those ripostes were heard: That collection, CLCC SA's managing director Antony Verbaeys told the paper, will not even be produced. It's probably wise of them to course correct at this point, but we'll have to wait and see if customers are on board for take three.