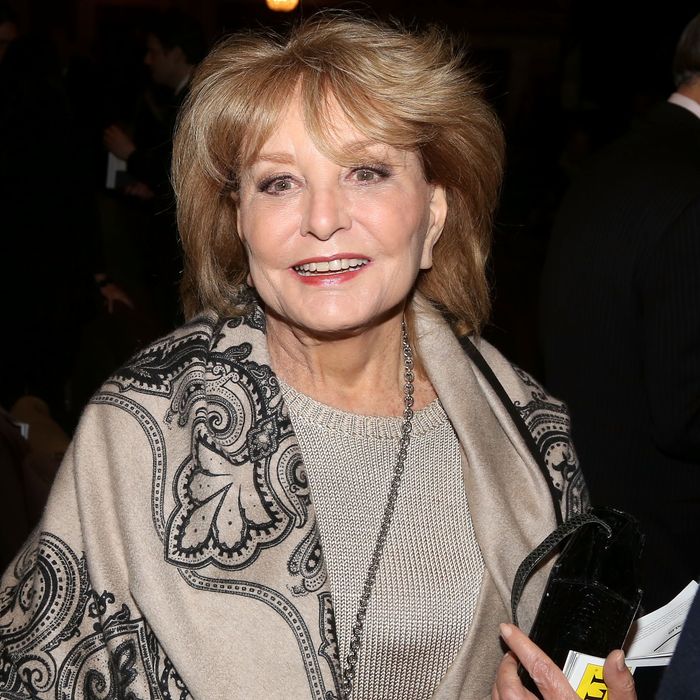 Photo: Bruce Glikas/FilmMagic
Legendary journalist Barbara Walters apparently has some strong feelings about the direction The View has taken over the years, according to a source at Page Six. Originally created and co-hosted by Walters, the daily talk show has gone through quite a number of hosts since it premiered in 1997 with a panel that included Debbie Matenopoulos, Meredith Vieira, Joy Behar, and Star Jones. The Daily Beast reported in 2014 that Walters lost her stake in the show, and co-creator/executive producer Bill Geddie left later that year. Since then, the hosts have run the gamut from Rosie O'Donnell, Elisabeth Hasselbeck, Rosie Perez, Jenny McCarthy, and Raven-Symoné, with decidedly mixed results.
Page Six reports that Walters "feels they've ruined the franchise that she and Bill Geddie built. Instead of focusing on smart, educated women with strong talent, they cast uninformed child actors on the show. The legacy has been compromised because of poor casting and bad leadership under ABC News."
Page Six added, "Walters is so over the show that she even ditched a post-election appearance, which reunited original hosts, Debbie Matenopoulos, Meredith Vieira, Joy Behar and Star Jones. Walters' longtime rep told us she was vacationing with her daughter in Florida. 'It was a prearranged vacation for the two of them. She calls the control room multiple times a week to offer her suggestions. She has a wonderful relationship with the show,' she said."
An ABC rep reportedly had nothing but great things to say about Walters: "There's no better producer than Barbara Walters, and we're always grateful for her notes about the show. The ratings are up, and we're very proud of the team."

Even Goldberg has said she probably won't renew her contract after the season is over. "I have to go and grow. I got stuff to do, I got movies I need to direct, I got books I got to finish. This was great and I love doing it, but it's been awhile and they're in their 20th season, they did this without me … I've been here for half of it, but not all of it," she told Wendy Williams. Ah, well. At least we'll always be able to get our cat updates from Whoopi's Facebook page.