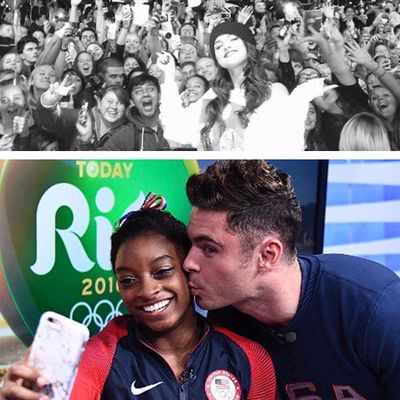 So many highs and lows on Instagram this year.
Photo: Instagram/ themarcjacobs, selenagomez, simonebiles, realdonaldtrump, tartecosmetics, maccosmetics
The year 2016 was big for Instagram. The app lost Justin Bieber but gained Pope Francis. It successfully challenged its rival Snapchat with the launch of Instagram Stories, which expire after 24 hours so "you don't have to worry about overposting." And as the election heated up, it increasingly became the home for political statements, especially from celebrities.
Read on for the top Instagrams of 2016.
JANUARY
Technically, Adele's 25 came out in late 2015, but celebrity sites spent most of 2016 documenting her adorable antics. Only five days into the new year, she reminded us of the resolutions we'll never keep.
Also in January, the world was given the gift of @tasteofstreep, an account dedicated to the perfect equation of Meryl plus Photoshop plus food.
FEBRUARY
During New York Fashion Week, when M.A.C Cosmetics posted a photo of model Aamito Lagum's glorious purple lips, the comments section was flooded with hate, starting a conversation in the beauty community about racism and double standards. Lagum later got the last word when she posted a photo on her own account captioned, "My lips giving you sleepless nights."
David Bowie's death shook creative worlds from music to fashion. Lady Gaga's tribute during the Grammy Awards started with tears, inspired makeup, and love.
Leonardo DiCaprio finally won an Oscar, and the memes flowed like wine.
MARCH
As if Kendall and Gigi don't get enough attention, the internet did a collective double-take when they swapped hair colors for Balmain.
APRIL
It's safe to say that no one knew what to expect when Beyoncé announced her new album. Her teaser on Instagram was the spark that lit the fire that burned through our headphones all year.
Fans and friends reacted to Prince's death in heartfelt ways across social media, but Lenny Kravitz's stood out.
MAY
Remember when this was funny and not depressing?
JUNE
As news spread of the shooting in Orlando, the accounts of victims and their families were flooded with messages of grief and support. Celebs like Blake Lively, Ariana Grande, and Miley Cyrus chimed in, with Cyrus posting a conversation with her father.
Editors and makeup artists began to debate the side effects of Instagram beauty tutorials, arguing that everyone on the app was starting to look alike.
Illustrator Julie Houts went viral for her funny, human Instagram posts, like this one about the fashion world's obsession with Italian vacations.
JULY
Ryan Lochte matched his hair to his eyes, and everyone got very excited. Then he ate spaghetti in an ice bath, and everyone got very excited again.
Instagram became a place for people to organize, discuss, and share stories on the #BlackLivesMatter hashtag. After the shootings in Dallas, Beyoncé joined in.
AUGUST
Stranger Things actor and all around good kid Gaten Matarazzo announced that he'd take photos with every fan.
Thanks to fairy godmother Hoda Kotb, gold-medalist Simone Biles was able to fulfill her much-talked-about dream of meeting Zac Efron.
Drake made our hearts explode and break when he posted this photo with Rihanna.
SEPTEMBER
Lupita Nyong'o celebrated three million followers in the best way: rapping to her fans. "Disney on the books, so you know I stay paid."
Designer Marc Jacobs addressed his controversial New York Fashion Week show in front of more than half a million Instagram followers.
White House photographer Pete Souza reminded us how lucky we were to have a president as cool as Obama in office for eight years.
"Extra" teen James Charles went from viral Instagram sensation to the first male face of CoverGirl.
OCTOBER
Taylor Swift reminded us that she's not the only one in her Tribeca apartment with a voice.
Kim Kardashian made her first public appearance post-robbery on the eve of Halloween. Someone was able to replicate the soft-serve hoodie look just in time for the perfect costume.
NOVEMBER
Cara Delevingne slammed press rumors that she was too "bloated" to walk in the Victoria's Secret runway show by posting a letter from Ed Razek himself.
Lena Dunham called Paul Ryan to express her concern about Trump's appointment of Breitbart's Steve Bannon as chief strategist and senior council. If you don't post your voice-mail message to Paul Ryan on Instagram, does it even count?
Leslie Jones answered the question "If you could have a dinner party with three people …" in one photo.
DECEMBER
There are 1,656,128 #mannequinchallenge posts on Instagram. We would've found it completely acceptable if the mic dropped with Paul McCartney's Black Beatles contribution.
The new @dearivanka account calls on Ivanka Trump to talk some sense into her father with glamour shots and handwritten letters.
Selena Gomez, who has the most-followed account on the platform, returned from a 15-week hiatus with the post below.