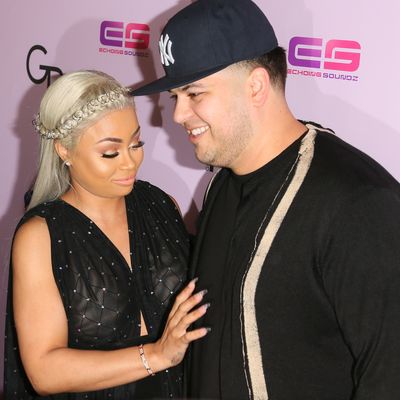 Photo: JB Lacroix/WireImage
It's been a real roller-coaster this past week for Rob Kardashian and Blac Chyna. The dynamic reality-TV duo are back together after what was reportedly quite a brawl last Saturday, ostensibly before Blac Chyna's Instgram hack and Rob Kardashian's subsequent heartbroken Snapchats. Yep, it was all documented on social media — but apparently not for their TV show, Rob and Chyna.
According to TMZ, "Production sources say film crews weren't at Rob's place last Saturday morning when Chyna allegedly got physical with her baby daddy. We're told things were so bad, Corey Gamble had to rip Chyna off of Rob and even called Rob's sisters over … but Chyna took off before they arrived." Luckily, the crew was there to film reaction interviews, which will no doubt be teased on various social-media platforms before finally airing on E! as part of the show.
Earlier this week, Kardashian announced via Instagram, "This weekend I was in an emotional bad place and did some things that embarrassed myself and my family. I apologize and I'm seeking help to deal with my flaws/issues. Please pray for me and I'm sorry @blacchyna. You are a great mother to our child and I love you."
The couple is now back together insofar as they're posting cute Snapchats and Instagrams of each other, because we all know modern love is nothing if not performative.