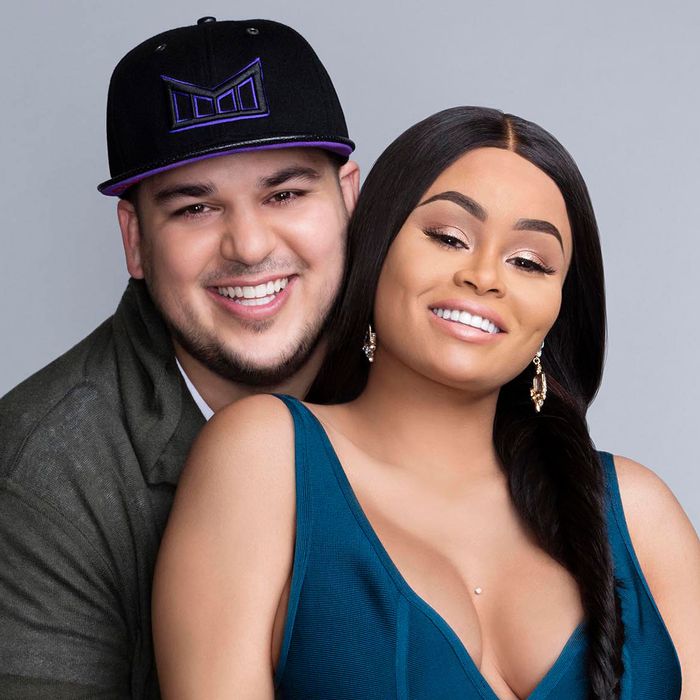 Photo: Tommy Garcia/E! Entertainment
What in the heck is happening over at Blac Chyna and Rob Kardashian's house? Yesterday, a whole bunch of now-deleted Instagram posts popped up on Chyna's account, including screenshots of flirty messages with water mogul Jaden Smith and Young Thug, and some major trash talk about Rob himself. They're all gone now, with two clips promoting the Rob & Chyna Baby Special airing Sunday night in their place.
Rob Kardashian took to Instagram and Snapchat to share his heartbreak, including videos of Dream's now-empty nursery. However, a more recent Instagram update alleges that not only did Chyna take their new baby, their baby's furniture, and the furniture from her son King's room, "[b]ut she really stole my eggos and BBQ sauce and the whole freezer was full of eggos." Other weird upates include poorly Photoshopped images of Rob as Kevin McCallister in Home Alone.

The now-deleted messages from Chyna's account show her calling him fat, lazy, and insecure, as well as her plans to trademark the name Angela Renée Kardashian and to break up with Rob after a year of marriage.
As per the Daily Beast, "Chyna's camp hasn't confirmed the nature of the hack" and suggests that the timing could have a little something to do with the Sunday night airing of Rob & Chyna Baby Special. Yesterday, when the initial post was removed and replaced with a clip from the special, we assumed that might be the case, but would they go this far to promote a special? Especially looking at the time stamps of the various posts, it seems, as Smith said in his private messages to Chyna, a little sus.

Then again, to say the Kardashians are savvy when it comes to using social media for self-promotion is an understatement, so it's possible that Rob and/or Chyna took a page from Kim's book to promote their TV special. After all, the on-again, off-again couple have used social media in the past to snag some much-needed attention for their show. If you'll remember — and who could forget?! — Kim aired some major dirt about Taylor Swift just hours before the latest season of Keeping Up With the Kardashians premiered. And, hey, it worked like a charm. A snake charm, that is.