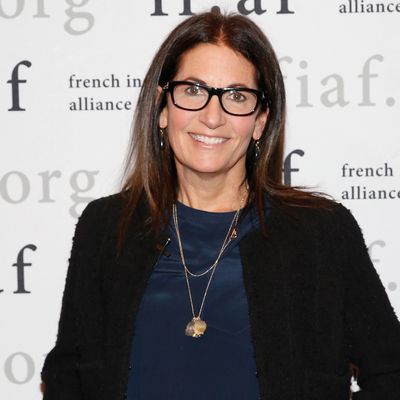 Bobbi Brown.
Photo: Robin Marchant/Getty Images
Pour out a little foundation that perfectly matches your skin tone for this news: After 25 years, makeup legend Bobbi Brown is leaving her namesake brand. But don't worry — her nude-brown lipsticks and perfect under-eye concealers will still be available for purchase. While the Bobbi Brown line will continue, it will do so without Brown, who told WWD that "it was time to start a new chapter and move on to new ventures."
"Natural" has always the brand ethos for Brown, who began her multimillion-dollar business in 1990 with ten simple brown-based lipsticks with names like Raisin and Salmon. "Lipsticks like lips," she called the idea (she pioneered the now internet- and editorial-ubiquitous concept of "my lips but better.") Having just come off the '80s era of flamboyant and dramatic makeup, Brown offered a fresh face to women who wanted "natural-looking" makeup or what we call nowadays, without irony, "no-makeup-makeup". Legend has it that she expected to sell 100 lipsticks a month, but ended up selling that in just her first day.
Her brand grew to include foundation for a wide range of skin tones, winning fans such as as Naomi Campbell and Oprah, and other skin-care products, which she described as for "women who want to look like themselves only prettier and more confident." In five years, it was purchased by Estée Lauder and Brown celebrated by buying a sailboat and naming it TYLL (Thank You, Leonard Lauder). More recently, the six-time author landed the role of editor-in-chief of Yahoo Beauty, opened a gym, started an eyewear line, and denounced the contouring trend. "Makeup should be about celebrating — not altering — a woman's features. This is one of the reasons I started Bobbi Brown," she wrote in a recent blog post. As she would say, pretty powerful. A non-compete clause runs out eventually, and here's to what she does next.