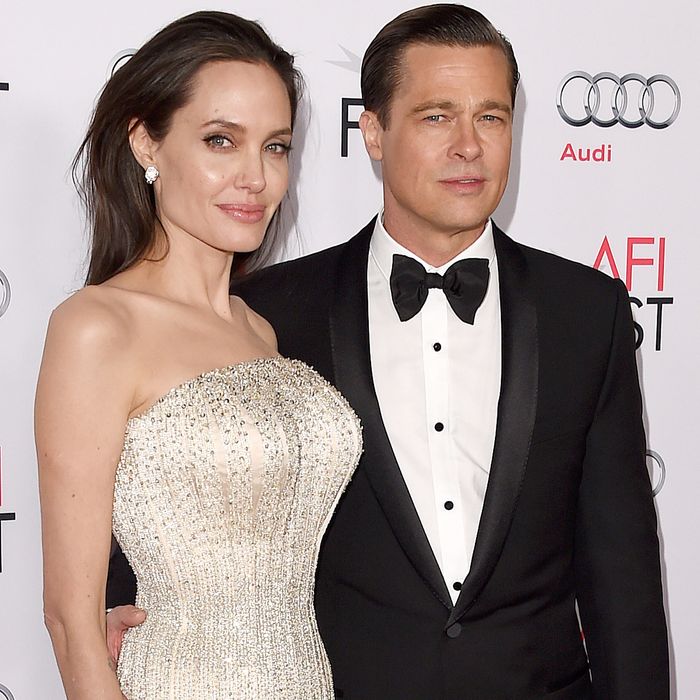 Angelina Jolie and Brad Pitt.
Photo: Jason Merritt/Getty Images
A judge denied Brad Pitt's request to have all custody-related documents sealed in his ongoing divorce case with Angelina Jolie, multiple outlets confirmed on Wednesday. The judge overseeing the case ruled that Pitt's filing didn't meet the requirements for sealing details at this time, according to USA Today.
TMZ reported early on Wednesday that Pitt wanted all documents related to custody negotiations to be sealed after Jolie filed documents that outlined the estranged couple's custody agreement early this week. Sources close to Pitt told TMZ that Pitt was annoyed by Jolie's filing. Though the custody agreement had already been made public in the press, Pitt's sources argued that Jolie exposed the children to "needless pain" by filing the documents. From TMZ: "Our Brad sources say there was no reason for Angelina to file a private agreement, and make it public other than to trash Brad and make the children collateral damage." Pitt's sources made similar arguments to People earlier this week.
Jolie currently has sole physical custody of the children, while Pitt visits the children under a therapist's supervision. Pitt plans to fight for joint custody. The FBI closed its inquiry into the child-abuse allegations against Pitt late last month, so Pitt is now in a better place to negotiate.
This post has been updated throughout to reflect the judge's decision against Pitt.