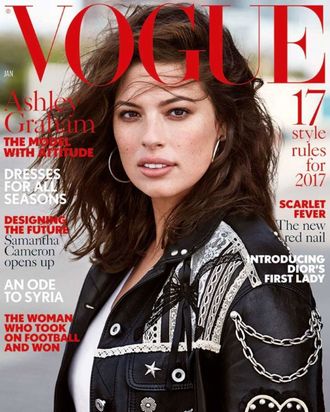 Ashley Graham on the cover of British Vogue.
In her editor's letter this month, British Vogue editor-in-chief Alexandra Shulman revealed that brands were reluctant to provide clothes for model Ashley Graham for the magazine's January cover shoot.
Shulman praised Coach for providing clothes for the shoot, adding that other fashion houses "flatly refused" to do so.
"It seems strange to me that while the rest of the world is desperate for fashion to embrace broader definitions of physical beauty, some of our most famous fashion brands appear to be travelling in the opposite — and, in my opinion, unwise — direction," she writes.
While the fashion industry is slowly moving to become more inclusive, many designers still have blinders on when it comes to designing clothes for women above sample-size. Earlier this year, Leslie Jones struggled to find a designer to outfit her for the Ghostbusters premiere (she was ultimately dressed by Christian Siriano), while Orange Is the New Black actress Dascha Polanco has said that designers often refuse to dress her because of her body type.
Graham is the first curve model to be featured on the cover of British Vogue. In October, the magazine put out a special issue that featured "real women" instead of models, which Shulman revealed was similarly challenging to find clothing for.

"It isn't just to do with sizes," Shulman told Good Morning Britain at the time. "This is to do with an attempt to show that actually you can put your clothes on people of all sizes, professions, ages, and it can look great."