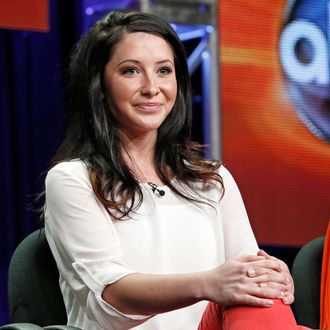 Bristol Palin.
Photo: Todd Williamson/AP
Entertainment Tonight exclusively reports that Bristol Palin, the former abstinence speaker, is pregnant again. Palin and her new husband, Dakota Meyer, told the outlet they are expecting a baby in the spring. "God has blessed us so much; we are thankful for His grace and new beginnings," they said in the statement. This will be Palin's third child. She and Meyer already have a baby named Sailor, and Palin shares 7-year-old Tripp with her ex-fiancé Levi Johnston.
Palin and Meyer got married in June of this year after some period of estrangement. They had originally planned to marry in May 2015, when Palin was pregnant with Sailor, but they canceled that wedding. Palin then gave birth to baby Sailor in December 2015. This complex timeline has given rise to multiple conspiracy theories about Palin's pregnancy with Sailor, which you can read all about here. Palin was also the subject of conspiracy theories when her mother gave birth to son Trig in 2008. You can read about those theories here.
So far, the only speculation about this pregnancy has come from TMZ. The gossip site noted that since Palin and Meyer got married six months ago and Palin is due in the spring, "it's clear these two work quickly."