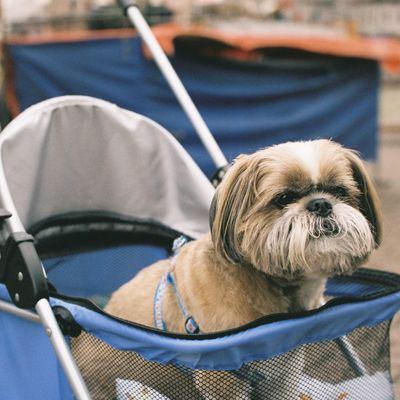 Photo: EyeEm/Getty Images
The question of who gets to keep the pets following a breakup is a dicey and emotional one — and can even make its way to court. Take a recent custody battle in Canada, in which a divorcing Saskatoon couple could not agree on what would happen to their dogs Kenya (9) and Willow (2). It resulted in Justice Richard Danyliuk, in a 15-page decision, ruling that dogs don't have the same familial rights as children in custody battles.
Suzanne Henderson argued that she should receive sole custody of the dogs and allow her estranged husband, Kelly Henderson, visitation rights. Kelly, meanwhile, thought they should each get a dog and would let Suzanne pick which one she would keep. (They both agreed that Suzanne could have their oldest dog, 13-year-old Quill, who is old and sick, and I'm not crying, you're crying.)
Suzanne's argument hinges on her claims that she did most of the work taking care of the dogs, which Kelly disputes. Further, she said that Kelly was more of a cat person, invoking his cats, Rodent, Slimey, and Oinky.
Justice Danyliuk began the ruling with "dogs are wonderful creatures," which is legal speak for "very good boys." He continues, "They are often highly intelligent, sensitive and active, and are our constant and faithful companions. Many dogs are treated as members of the family with whom they live. But after all is said and done, a dog is a dog. At law it is property, a domesticated animal that is owned. At law it enjoys no familial rights."
He further explains that dogs and children are not the same under the law, giving such examples as "in Canada, we tend not to purchase our children from breeders," and "when our children are seriously ill, we generally do not engage in an economic cost/benefit analysis to see whether the children are to receive medical treatment."
The ruling states that dogs are to be treated the same as property, and, as such, Justice Danyliuk would not be making a custody decision. He also added a little King Solomon twist with "both parties should bear in mind that if the court cannot reach a decision on where the dogs go, it is open to the court under the legislation to order them sold and the proceeds split."

Per a spokesperson, who, in retrospect, may have just been three dogs stacked inside a trench coat, Canada's dogs firmly disagree with Justice Danyliuk's decision.