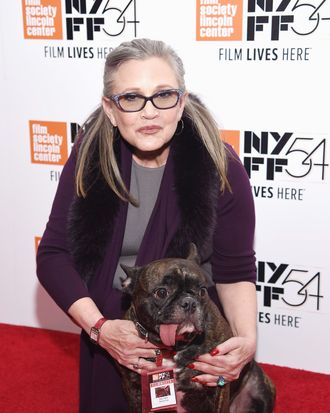 Carrie and Gary Fisher.
Photo: Dimitrios Kambouris/Getty Images
When the inimitable Carrie Fisher died on Tuesday at the age of 60, fans came forward to collectively mourn her role both as a beloved actress and as a mental-health advocate. Many also wondered what would happen to her dog, Gary Fisher.
Gary, a four-year-old French bulldog with a distinct tongue, was a constant fixture during Fisher's red-carpet and press appearances; he attended film premieres and was featured regularly on her social-media feeds. Gary served as an emotional support dog to aid Fisher's bipolar disorder. Their names also rhymed.
According to TMZ, Fisher's daughter, the actress Billie Lourd, is taking custody of Gary, as her mother reportedly wished. "If, for some reason, Billie can't care for Gary for the long haul, the dog will remain in the family," they wrote, though "Billie already has a French bulldog named Tina, that's best friends with Gary."

Now, whatever you do, do not click on the Gary Fisher Twitter account.