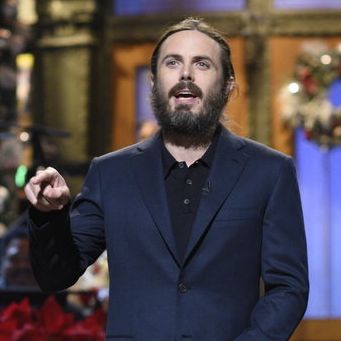 Casey Affleck on SNL.
Photo: ©2016/Will Heath/NBC
Casey Affleck will most likely win an Oscar for his starring role in the depressing New England family drama Manchester by the Sea. Last week, he won both a Critics' Choice Award and a Golden Globe nomination for his performance. And last night, he had the honor of hosting Saturday Night Live, where he joked about how sad his movie is and played comfortable Boston characters like a "Dunkin Donuts customer."
Nobody mentioned the sexual-harassment allegations against Affleck, of course. Affleck has barely had to contend with his past in recent interviews, so there's little chance the allegations even came up in the SNL writers' room. This was just one more stop on Affleck's promotional ride to his Academy Award–winning future. To recap: In 2010, two women who worked for Affleck on the Joaquin Phoenix mockumentary I'm Still Here accused Affleck of sexual harassment in separate civil suits; after mediation, both suits were settled. In a recent interview with the New York Times, Affleck said the matter was "settled to the satisfaction of all." To read more about the settlements, click here.