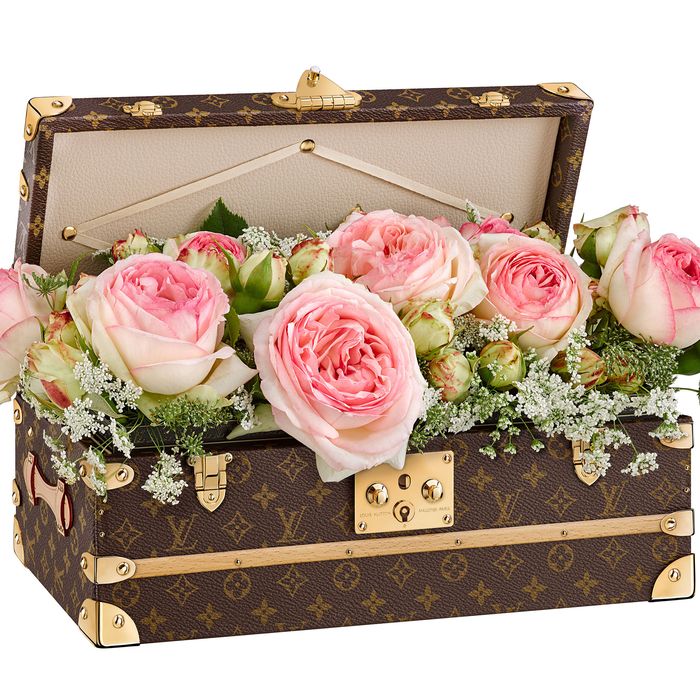 For the person who would never store their priceless roses in a vase.
Photo: Courtesy of Louis Vuitton
For the past two weeks I've been re-reading Crazy Rich Asians and its sequel, China Rich Girlfriend. Some of the most absurd (though completely pleasurable) scenes depict the obscenely wealthy characters as they spoil themselves with the most insane, over-the-top shopping sprees. Fly to Paris and buy a completely new haute couture wardrobe for the season? Oh, that's just a typical girls' shopping weekend. Drop a few million euros on a diamond ring the size of a golf ball? What else would you buy when you're in a high-stakes mahjong game where the bets are made with priceless jewelry.
The best part is that these books are based on completely real people who regularly indulge in this kind of behavior. They're the collectors who won't hesitate to fly around the world in order to get their hands on the latest, hard-to-find items that never, ever, feature a price tag. Essentially, they're the ones who will buy Louis Vuitton's latest special project.
The custom boxes aren't exactly the standard in-store merchandise — no regular person needs a massive container to house their Christmas decorations. But when a Singaporean billionaire has a massive collection of baccarat ornaments, they're not going to wind up in a random cardboard box and thrown in a storage closet. Or if you're the kind of guy who spends six figures on a bottle of whiskey, you're going to want to show it off in a custom case. Maybe you just need a really, really special vase for some flowers?
From a boombox constructed out of the different types of Louis Vuitton leathers to a special shoe trunk to the debut of the Monogram Eclipse (a black-and-white version of the classic logo) luggage, the entire set is completely over-the-top and the stuff of rich people fantasies. Scroll ahead to see them all or visit them in real life at the NYC flagship, where they'll be on display through the 20th.