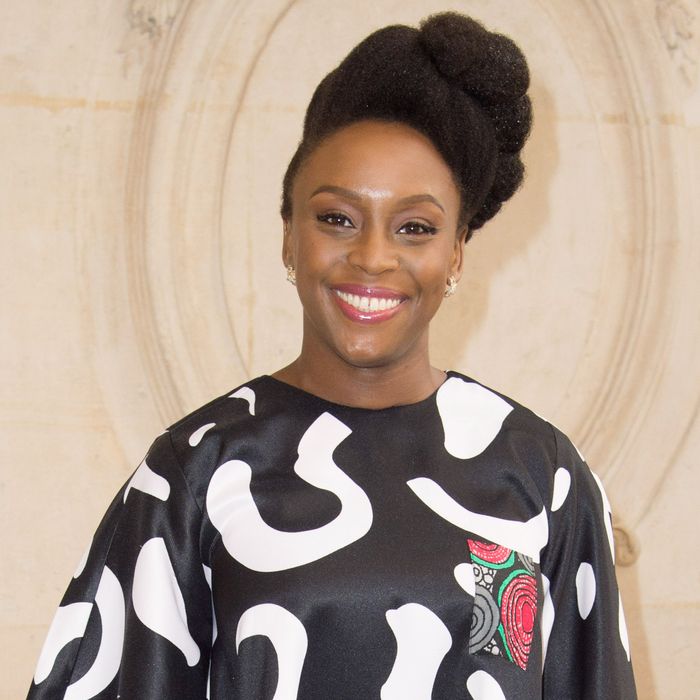 Chimamanda Ngozi Adichie at Paris Fashion Week.
Photo: Stephane Cardinale - Corbis/Corbis via Getty Images
Chimamanda Ngozi Adichie had her first Fashion Week experience this past September, where she sat front row at the Dior show in Paris as models walked to Beyoncé's mix of her epic "We Should All Be Feminists" speech.
Adichie told Elle in a new interview that she enjoyed her first foray into the world of high fashion, but also found it to be "baffling." Adichie said she "admired" Maria Grazia Chiuri's collection as the first female artistic director of Dior, and found the designs to be "very confident and very true." But on the whole, she isn't so sure about the Fashion Week subculture or the ideals about the female body it puts forth.
"As a fiction writer I like to watch the world, and I collect material in an almost anthropological way. I thought most of the models were painfully skinny and I found that curious and troubling."
She went on to say that she wonders whether women still have to "earn" the right to be openly passionate about fashion. "That you are still expected to prove your ability first — otherwise your appearance will still be used as a proxy for your ability or intelligence. Which is a shame," Adichie said.