On a humid Saturday last summer, a young woman with a halo of curls put on a white cotton dress and set up a booth at the Hester Street Fair in downtown Manhattan. She wasn't selling artisanal jerky or hand-painted pottery — what she had on offer instead, as advertised by a bright-blue sign propped against a vase of yellow flowers, was "peaceful and loving conversation." A banner above her head read ARE YOU OK? "Honestly, it was inspired by Lucy from Peanuts," recalls Cleo Wade. "She's an icon."
That week's top news stories had included a series of extreme forest fires in California; the ongoing Republican-led battle to enact stricter voter-ID laws in North Carolina, Kansas, and Wisconsin; details on the life of a former Army soldier who'd just killed five police officers at an otherwise peaceful Black Lives Matter rally; new evidence of Roger Ailes's decades of alleged sexual harassment; and the first Zika transmissions by mosquitoes in the U.S. Plus, there were the relentless daily updates on the presidential race between Donald Trump and Hillary Clinton. In other words, there was a collective sense of anxiety, instability, and insecurity, which is pretty much Wade's sweet spot.
"I call it 'the work,' " she says. "I have friends of every age and race, and when I'm listening to them, I'm just thinking, What would be the blanket that would keep you warm in that cold thought? You pump out as much of the work as you can because you're trying to throw as many blankets on people as you can." That Saturday, all day long, Wade remembers, she and her friends sat in her booth and talked to people from the neighborhood about their lives. "So many young people were in their first jobs after college, and they're like, 'I thought this was going to make me happy, but it's not,' " she recalls. "And then a lot of people of color, especially LGBTQ people, were saying, 'You just feel like you're not allowed to take up space.' " It rained, but they had a line all day.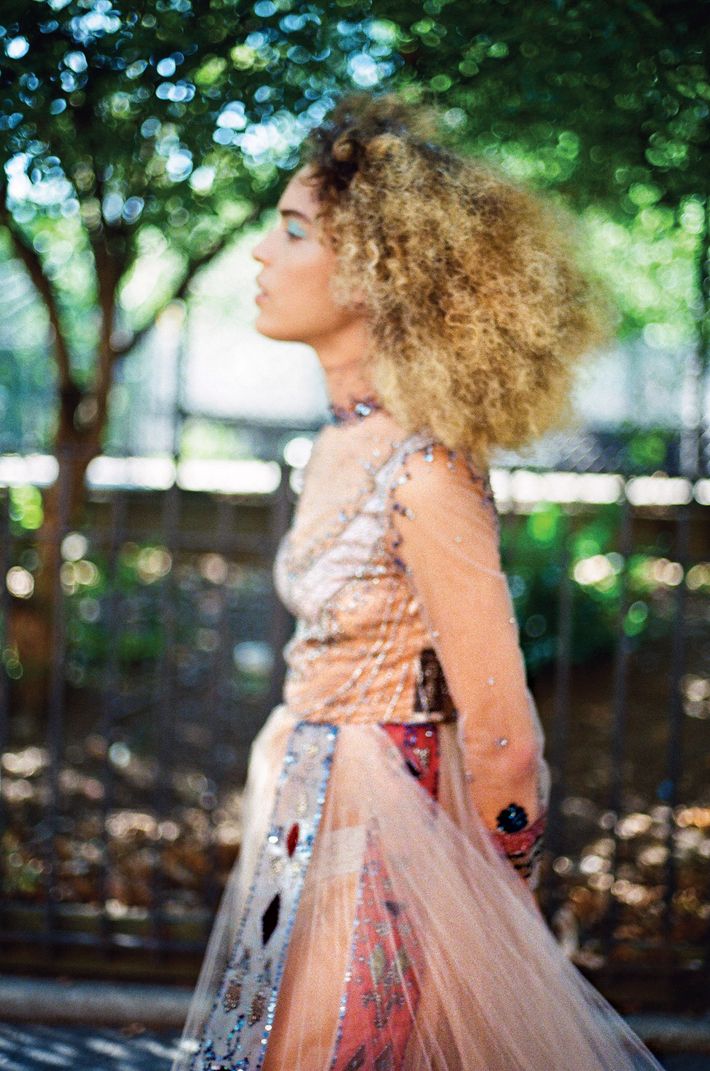 The origin of fame in this post-internet age can be difficult to pin down. Was it the reality-TV-show guest role that led to the modeling contract that led to the record deal? Or did the Twitter persona come first? But in the case of Cleo Wade, you can draw a fairly direct through line from the launch of her Instagram account about two years ago to everything that's happened since. Her first post showed an off-white sheet of drawing paper, shot against the backdrop of an Oriental rug, with a message written in crisp black print: DEAREST, I AM WRITING YOU THIS LETTER TO INFORM YOU OF MY UNBREAKABLE NATURE. THAT'S ALL. LOVE, WOMEN EVERYWHERE. In the comments field, Wade added: "hi internet."
Twenty-some months and more than a thousand posts later, Wade's poems have been shared by Lena Dunham, Jenna Lyons, and Bella Hadid — just three of her approximately 175,000 followers. "Be yourself," reads one. "I love you like that." Another: "Don't waste your time on negativity. I have never seen it make a new friend or turn a single thing into magic." Instagram affirmations are like Hallmark cards for millennials, and Wade has mastered the economical form, allowing her to communicate with the widest possible audience. Sometimes her words are handwritten; sometimes printed typewriter style; sometimes painted in rainbow watercolors. The effect is like mainlining Manuka honey while getting a shoulder rub from a life coach (an angelically beautiful life coach, who has one comely snaggletooth and wears Dior). It might seem cloying to some, but to her followers, it's a welcome antidote to all the hate and anger that swirls around the internet on any given day. Somehow, Wade's style and confidence make her positive pronouncements seem cool even in their earnestness. She gives her readers permission to feel … better.
Wade pays for her life the way many young, beautiful social-media stars do: She models for brands like Ugg and Armani and hosts fashion dinners for the likes of Jimmy Choo. She just collaborated with Barneys on a limited-edition run of sustainably sourced prints of her poems. But social activism is as much a part of Wade's personal brand as fashion is; she sits on EMILY's List's creative council, supports Planned Parenthood, and during the presidential-­campaign season posted shots from her canvassing work or fund-raising dinners almost as often as she did poems. That was Wade sitting next to her good friend Katy Perry during HRC's nomination-­acceptance speech at the Democratic convention this summer. And that was also Wade, a few weeks later, walking the red carpet at a Refinery 29 event with New Jersey senator Cory Booker on her arm. (She won't discuss their relationship. "I don't want to just hit you with a 'no comment,' " she says to me. But the stories that get told about women's romantic lives are "either 'I'm single and fucking loving it!' or 'I found my other half.' I just always love to inject the narrative that's missing, which is why I don't confirm or deny anything in the romantic realm.")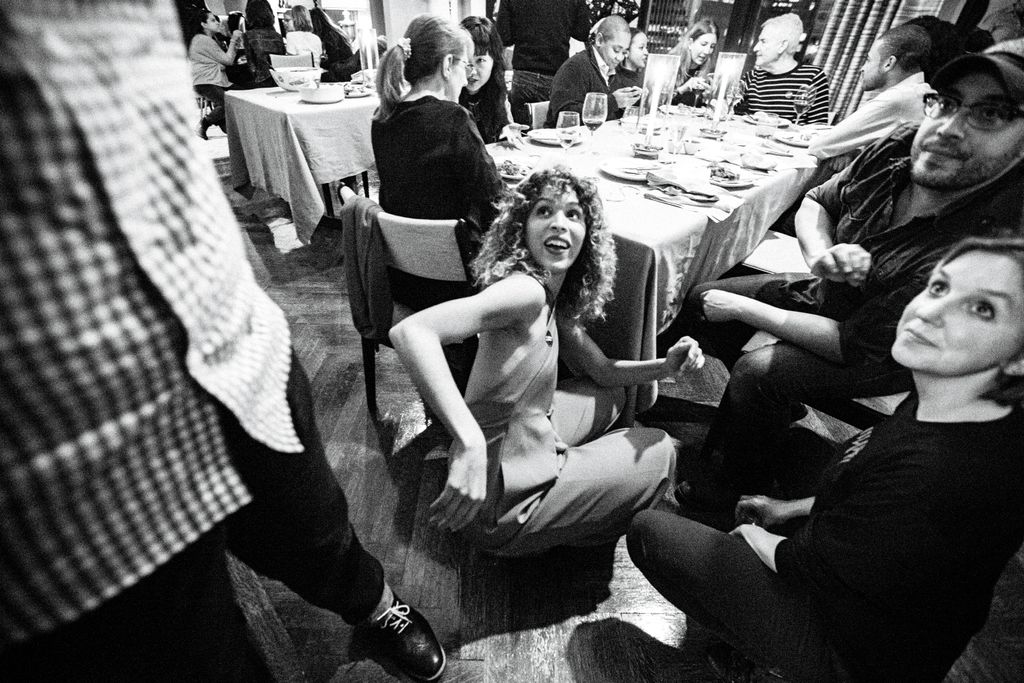 The 28-year-old New Orleans native has found a way to deliver a message of unity, self-love, and social action to a growing group of followers, many of whom want to be her best friend and/or know where she got her dress. "No matter what I'm working on — a billboard on a side of a warehouse or a print or even how I get those modeling jobs — it's all because of the words I make," Wade says. "Even when I walked into a meeting at Nike, they're like, 'Can I just hug you? You got me through my last breakup.' "
"You're a channel and a conduit for so many people's emotions," says Liza Voloshin, one of Wade's closest friends and a co-founder of her arts collective, Chez Conversations. A group of friends have gathered around a buffet of junk food in the reading nook of Wade's floor-through East Village apartment, the kind of elegantly cluttered bohemian girl-lair that Holly Golightly types tend to inhabit in the hazy fantasy of New York life seen onscreen. Though Wade wouldn't love that comparison. "I can't stand the 'It'-girl thing," she says, getting up to open another bottle of wine, the hem of her caftan nearly catching on her fuzzy bedroom slippers as she walks. "There is no 'It'-boy equivalent to 'It' girl."
Wade would probably prefer to be compared to Oprah. And, given her way with an inspirational aphorism ("We grow into our shoes that we're meant to walk in, we're not just born with them on," she will tell me later), it's more in line with her abilities and ambitions. Wade is currently writing a self-help book aimed at those fans who turn to her for advice, the ones who send her hundreds of emails a day, the ones who write on her feed, Your posts say what my heart and mind think/feel. "Young people aren't growing up with an Oprah," Wade explains. "Oprah was my mom's best friend. Oprah told her to connect her mind, body, spirit; what she was eating; start the book club."
Every time she posts a new poem, Wade gets a flurry of texts from friends sure she had them specifically in mind when she wrote it. "And I just say 'yes' to everyone." Wade smiles and takes another sip of wine.
For Wade, being in a room full of chatty women feels like home. "My mom would always have girlfriends over, sitting around the table drinking jug wine after work," she remembers. "They'd always be crying about something, and I'd just hop from lap to lap, cuddling." Wade's mother, who is white, is a chef; her father, who is black, is a photographer. "He, like, is style," Wade says of her father. "He looks like a Blues Brother: three-piece suit, a hat, and sunglasses every day. I haven't seen his eyes in probably 20 years. One of his pieces of life advice to me was, 'Baby, always maintain your silhouette,' because he's been maintaining his for 30 years." Wade's parents divorced when she was 6, which she says she took in stride: "I just don't have an attachment to my parents' being together." She was a competent, independent kid. A story that gets told at her mother's table today involves Wade waking up early as a little girl, packing herself up for school, and waiting patiently by the door for someone to take her.
Wade went to work at 12 (before she was legally allowed to), less because she needed the money than because she liked being around people. "I've always been attracted to women bosses, to that matriarchy energy," she explains. "Clothing stores are usually owned and operated by women, so I worked in little boutiques on my street in the French Quarter my whole life." It was while behind the counter at one of those shops that Wade met an interior designer from New York who hooked her up with an internship at M Missoni; in the summer of 2006, just after finishing high school, Wade moved to New York. By the time she turned 19, Wade had talked her way into a job as an office manager at the newly relaunched fashion house Halston, a gig she'd coveted mostly because it had a female CEO, Bonnie Takhar. "Bonnie was the epitome of that Sheryl Sandberg lean-in-and-work-like-a-man thing," Wade recalls. "It was cool, because I saw that up close, but I don't co-sign it."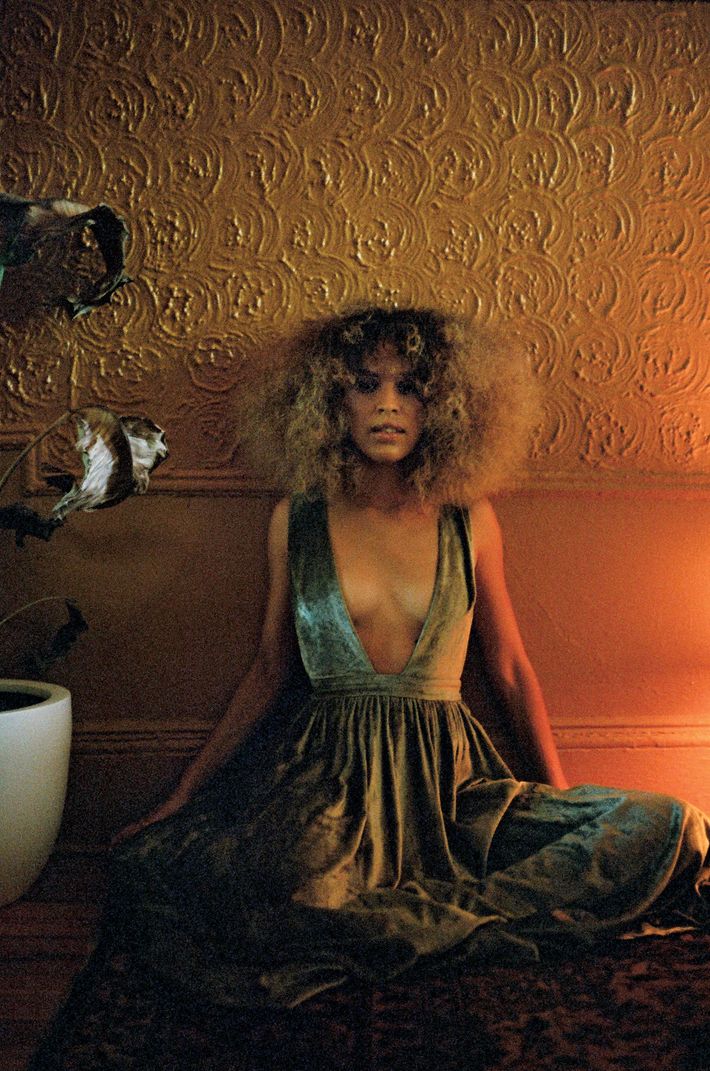 Things Wade co-signs include salty foods, bad romantic comedies, and Krista Tippett, host of the public-radio show and podcast On Being. Things Wade does not co-sign include pink faux-fur coats, celebrities who pretend they can't go out in public, and anyone who thinks feminism is about getting women to do more. "We need to break apart that idea that we need women to just work harder or sharper or be tough as nails," she says. "I don't fucking want to be tough as nails. I like being me. I like being in a good mood. And working from a place of care. Women constantly work to widen the safety net of care." I ask Wade if she ever thinks about seeking public office, and there's a long pause followed by a round of chuckles from her friends. "I'm running for mayor of 10th Street," she says, smiling. "I'm running for mayor of Tompkins Square Park."
For Wade, this election season was a turning point: She was an ardent Hillary supporter, starting in the primaries. "Have I always voted? Yes," she says. "Have I really put my intentions and myself in that ballot box? No."
In the fall, Wade went knocking on doors in a suburban apartment complex in Charlotte, North Carolina. She wore a long red vintage skirt, American-flag Converse sneakers, and a TEAM HRC T-shirt with bright-red lipstick, and she did cartwheels with a gaggle of neighborhood girls. Afterward, she dusted the grass off her hands and gave instructions to her totally mesmerized audience. "Do you know who Hillary Clinton is?" Wade asked, crouching down on the balls of her feet. The girls nodded solemnly. "She's going to be our first female president, and I want you to make up a cheer about her to show your parents." Half an hour and a few dozen doors later, the group tracked Wade down, ready to put on their show. "Vote! For! The female president!" cheered one little girl while her friend practiced round-offs on the pavement, waiting her turn. "That was sooooo good!" said Wade, clapping loudly.
As Wade's profile grows — she's being asked to speak at NAACP rallies and has popped up in Vogue and "Page Six" — the attention has inevitably attracted skeptics. "Someone attacked me recently," she says — they claimed she was a social climber, that she'd ascended to her current perch thanks to celebrity friends. "I've come from nothing; I barely got out of high school," Wade goes on. "I'm the person who is everyone's only black friend. I wasn't supposed to be invited to fashion parties. I have literally built a career that doesn't exist. But all of a sudden I've just been reduced to someone who uses celebrity fashion friends to be in Vogue? It's just like, Wow, you've completely taken away my journey."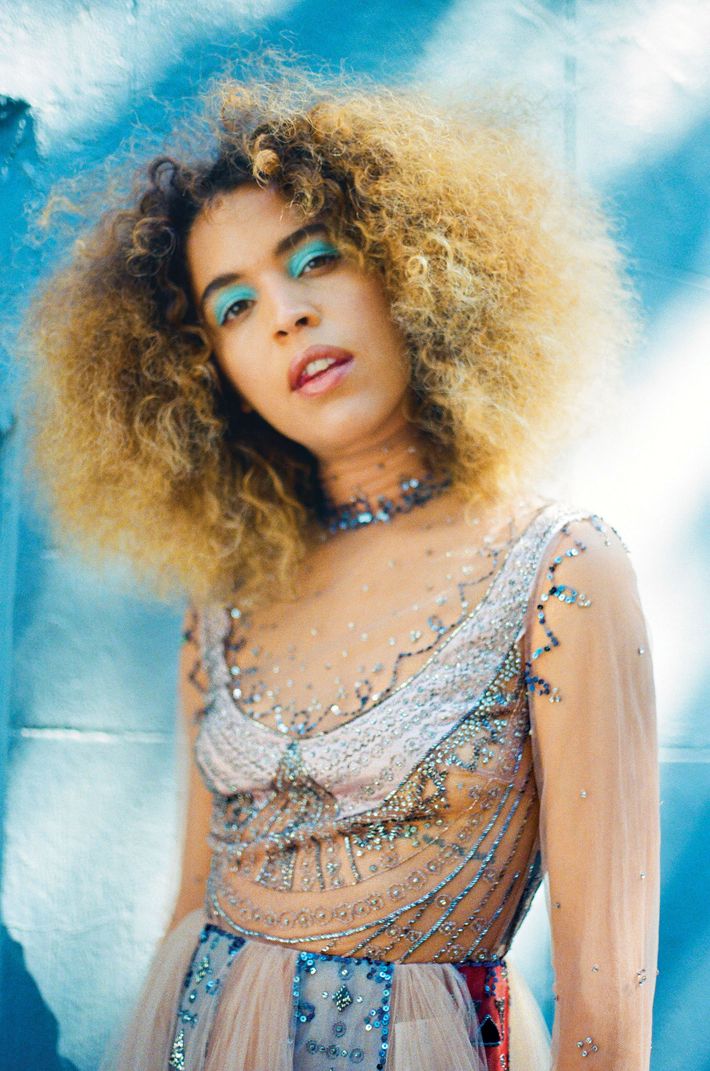 But Wade is well inured to criticism, thanks to her family. ("Oh, they torture me," she says. "If I'm stern with my mom, she'll be like, 'Okay, Cleo, why don't you act like your poetry and just have a dope day.' ") And thanks to one of the core principles in her self-help code: "The surefire way to happiness in anything you do in life is to turn it into an act of service," she says. "Criticism never fazes me because I've always framed it as service. Putting this idea out there to a mass of people might scare me, but if it helped anybody, then I know it's meant to be."
If there was one day when Wade's fan base needed her to serve them a hit of radical optimism, it was November 9, the day after the election. That morning, I texted Wade to see how she was doing. "Well, I would be lying if I said I haven't been crying all morning," she wrote back. "But it is important to remember, especially as women and people of color in this country, that our rights and dignity were never handed to us. They always came when we organized and fought together for them." I said that I agreed, and I knew, and yes, but that it nonetheless felt like so many people just hate women, like so many women hate themselves. "No, my love," she replied. "Women don't hate women. Our country just has not raised women to love themselves more than our institutions. We have to raise our future generations to respect the space they take up in this country and not look at themselves as servants to the legacy of men. We especially have to teach them that we are not safe just because a man is in charge." It was just the kind of sentiment you want to screen-grab and re-post on all your social-media feeds, you know, to share the love.
*This article appears in the December 12, 2016, issue of New York Magazine.
Makeup by Katie Mellinger using Sephora Collection More Than Meets The Eye Eye-shadow Palette; Hair by Cash Lawless at Jed Root using IGK; Styling by Johnny Wujek.