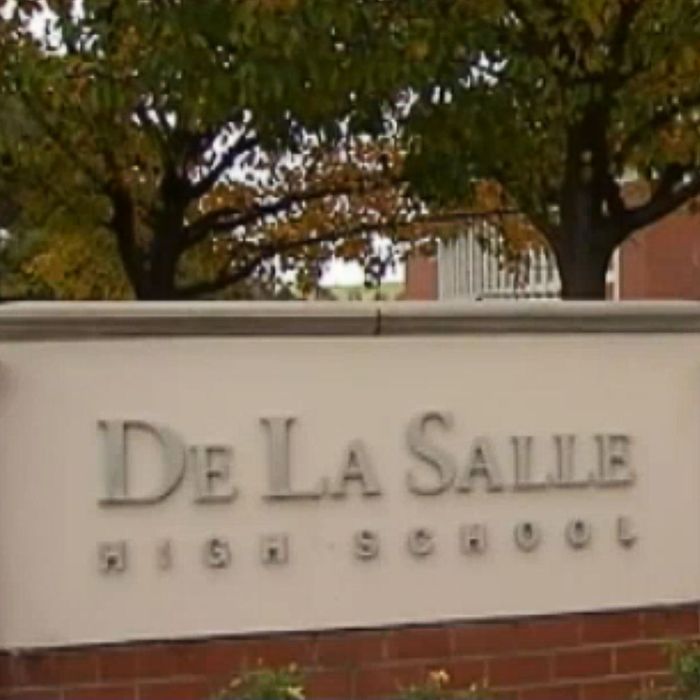 De La Salle High School in Concord, California.
Photo: NBC
The father of a California high-school football player arrested for allegedly sexually assaulting another high-schooler says his son is innocent because, as a handsome athlete, he has to fight off all the girls who want him.
The boy is a freshman at De La Salle High School, a private all-boys Catholic school with a nationally recognized football program; he plays on the freshman team. The alleged victim, a freshman at the all-girls Carondelet High School across the street, said the assault occurred on De La Salle's campus during a varsity football game on November 18. The girl reported it to her principal the following Monday and he called the police; the boy was arrested a week later. (All parties are anonymous because minors are involved.) Inexplicably, the suspect's father thought it was a good idea to talk the East Bay Times:

"He's tall, dark and handsome, he plays for De La Salle, there's a lot of girls that want to be with my son. When young, fast girls see something they like, they go after it … She's the one that basically chased my son down. They were just two teenagers having sex; they were just doing it at the wrong place, at the wrong time."
The father is a registered sex offender following a child-molestation conviction, and he addressed his prior behavior in the story. "Just because my background is what it is — I'm not that type of individual, and neither is my son," he said. "I don't want to see my son be a victim also."
The girl told the KPIX 5 television station that she did not consent and that police have surveillance footage that captures portions of the assault. "Boys need to know that no means no, period. Point blank," she said.

"It's not okay for this to happen to anyone," she said, "and it's not okay for people, like society, to feel like the person that's been hurt, that they've done something wrong to feel ashamed about the situation."

The suspect was released from custody in a juvenile center, but a Contra Costa County deputy district attorney said on Friday that an investigation is still ongoing.