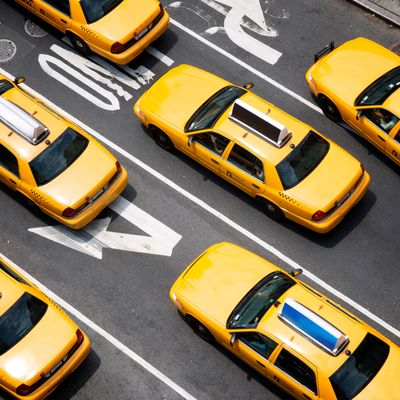 A law proposed in New York City would make sexual-assault reports publicly available.
Photo: PeskyMonkey/Getty Images
On Thursday, a New York City Council member proposed a bill that would make any report of sexual assault that occurred in a ride-hailing service public record. According to BuzzFeed News, the law would apply to any vehicle operated by New York City Taxi and Limousine Commission–licensed companies and owners — that includes green taxis, yellow taxis, Uber, Lyft, and other services.
The law was drafted in response to a BuzzFeed News investigation that found apparent discrepancies between Uber's reported number of sexual assaults (fewer than 170) and the number of customer-support tickets that included the words "sexual assault" in a search of Uber's database (6,160).
There's currently no requirement to publicize incidents of sexual assault that occur in New York's more than 140,000 TLC-licensed vehicles. "We thought we should take the first step in here to try to combat this problem by measuring it," said Dan Garodnick, who proposed the bill. "A ride in a taxi should not be an invitation to a sexual assault, and real data will allow us to take real action."
To start, the legislation would collect information on sexual assault from TLC, 311, and the NYPD, and Garodnick said he's hopeful it would expand to include companies like Uber, Lyft, and for-hire cars. Not only will the law allow legislators to better address the problem, Garodnick said, "it'll also serve as a benchmark for all the stakeholders in the TLC space to see where they stand when it comes to being host to sexual harassment and assaults."