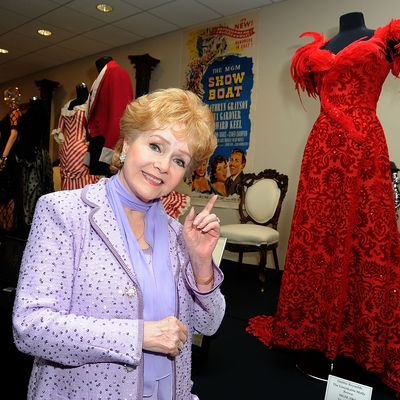 Photo: Frazer Harrison/Getty Images
Debbie Reynolds was just 19 when she landed a leading role in the iconic film Singin' in the Rain alongside Gene Kelly and Donald O'Connor. It was a role that jump-started the ingénue's career in Hollywood — a career lasting several decades — which included an Oscar-nominated performance for her role in The Unsinkable Molly Brown. Reynolds, however, was much more than an entertainer in Hollywood. She was also, in a way, Hollywood's enthusiastic and self-appointed art historian, helping preserve costumes from many of the most iconic films in the industry after studios had long forsaken them.
As news of Reynolds's death circulated late on Wednesday evening, following the unexpected death just a day earlier of her daughter and fellow actress Carrie Fisher, fans poured out their admiration for the late entertainer. After all, throughout her career, Reynolds was among industry legends, and the public knew a lot about her personal and romantic life, particularly after having been a part of one of Hollywood's most famous love triangles involving her first husband, Eddie Fisher, and Elizabeth Taylor. And, while it's her roles in Hollywood films of the 1950s and '60s that Reynolds will undoubtedly be remembered for, it's also worth acknowledging her tremendous efforts to preserve iconic film costumes, props, and other memorabilia. "My lifetime dream has been to assemble and preserve the history of the Hollywood film industry," Reynolds told the Las Vegas Sun in 2011. "Hollywood has been an enormous part of my life, as I know it has been for countless fans all over the world."
For decades, Reynolds made it her personal mission to ensure that the history and magic embedded within the finely crafted clothing and designs featured in films from Hollywood's Golden Era were not lost in the shuffle of studio downsizing. To put it more succinctly, that the red ruby slippers Judy Garland wore as Dorothy are still around, along with Audrey Hepburn's dress from My Fair Lady or Charlie Chaplin's distinct bowler hat (and thousands of other film pieces), is owing to Reynolds's valiant efforts. Her collecting began in earnest in 1970, after MGM was bought out and consolidated, according to a 2011 article in The Wall Street Journal. She immediately offered to buy MGM's costumes, songs — everything — but it was sold to an auctioneer instead. Per the Journal:

"So every day for three weeks, she waded through more than 300,000 items. She ended up purchasing a large, but carefully selected, array of costumes and furniture. Over the ensuing years, she added items through smaller auctions and individual purchases. When [the Journal] compliment[ed] her prescience, she sighs and says, 'It's not so much that I had vision, it's that they had none.'"

Reynolds had harsher words about the matter in 2014, when the last of her collection was sold off in private auction. "They literally threw away our history and I just got caught up in it," Reynolds told The Hollywood Reporter. "The stupidity and the lack of foresight to save our history. Oh yes, they gave them away if you came up and said that you have something you had to offer. It was no matter about the history." Reynolds, for one, did care about the history. A lot. She tried for years to find a permanent home for her collection in a museum and came close seven times before the rug was pulled out from under her.

While the scattered memorabilia saddened Reynolds, she did keep one piece: an original statuette of a Maltese falcon from the film by the same name, according to The Hollywood Reporter. After three marriages, she told the publication, "I'm keeping him. He's mine. It's one man that did not get away."