Alicia Glen is the deputy mayor for housing and economic development in New York City. She recently announced a project to bring a 254,000-square-foot space to Union Square for New York's tech community. She has two daughters, lives on the Upper West Side, and is a lifelong New Yorker. She starts her day at 7 a.m. and is rarely home before 9 or 10 p.m. Her first task in the morning is to read every city blog. Here's how she gets it all done.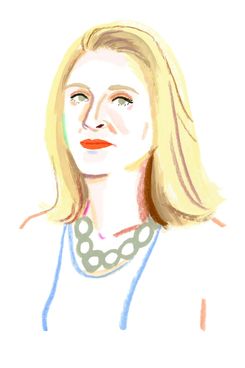 On one day in the life of a deputy mayor of New York City:
Let me tell you about what I did yesterday. We were putting the finishing touches on a $250 million deal to open a tech and innovation center in Union Square. I was sitting with my housing team making sure we've tied up loose ends by the end of the year. I'm running around like a lunatic trying to find Spanx somewhere in the city, to guarantee that I can get into this cocktail dress later. I had to run into dozens of stores to buy my 16- and 20-year-old daughters Christmas presents. There is a certain Frye boot that has a heel that is not too big and not too low that they want. They are very specific. And then I had a two-hour meeting with the mayor at Gracie Mansion.
One of the greatest perks of this job is that I have a car and driver. I have extra Spanx in the back of the car when I need them. I have shoes in case my heel breaks. My driver has figured out how to turn his head a certain way when I need to change. There is a gym bag in here, which is my pathetic attempt at convincing myself that I'm ever going to get to the gym. It's sort of a zoo. It's a traveling circus.
On the first things she does when she wakes up every morning:
I hate those people who say they get up before they actually go to sleep. I generally get up before seven, drink coffee, and I check all the city blogs. I want to know what's going on. It's my job. I want to be prepared. I want to be able to address things head-on, like, "Oh my god, such-and-such a deli is closing." I know the mayor is going to call me about it because he bought a bagel there five years ago. I need to be ahead of the game so I can be responsive to him. There are also certain sites that I read every single morning, just so I can see what horrible things are being said about me.
On why being deputy mayor isn't such a bad gig:
I have the best job in government. On any given day, I am focusing on really long-term difficult issues. How are we going to build enough housing to keep NYC competitive in the long run? People are going to come to New York and write their first play here — where do we put them? How can we have fewer people in shelters? How are we going to do zoning and planning? Where are we going to put the next movie theater? The next office space? Where are we going to build the next studio? I tackle the issues that literally affect the day-to-day lives of New Yorkers. If we want to be the most innovative city, we need to be playing the long game and the short game. I got here a couple of years ago. I don't want to talk about these issues; I want to put them into action.
On what it takes to be a powerful woman in politics:
If you want to find out how I became the way I am, you'd have to talk to my mother. (But please don't call my mother.) My mother and my stepmother would probably say that I popped out this way. They were both very ambitious and successful women, particularly in their public-sector careers. I remember very vividly when I got to high school, the first time that someone explained to me that women didn't run the world, I was like, What do you mean? I didn't know that there was such a thing as staying home and not being in charge.
On why it's important to maintain a sense of humor about everything, even the serious stuff:
How did I get the skills and the confidence to do this job? By maintaining a sense of humor about it all. It is absolutely nuts. My life is so chaotic. I haven't done a sit-up in six months. You can't do it all, so you do what you can with humor, grace, and conviction. I was at Goldman Sachs for 11 years, and I'm no different in this job than I was there. Whether you're in public service or working at a law firm, the most important thing for everybody is for you to be who you are. You do your work and you push your agenda and you manage your people. Usually when things go wrong, it's because you aren't being true to yourself.
Anybody who says they bat a thousand, that person doesn't even exist. You can live a life where you don't try to get anything controversial done — lots of people do that. My view of the world is, if you're not trying to shake it up and you're not making change, then what's the point? I might as well go to Pilates. If I'm going to work as hard as I work and care as much as I care to make New York more fabulous, more funky, more fair, I know I'm not going to do that without pissing people off or engaging controversy.
On the ways she balances her busy work life with a fulfilling life outside of City Hall:
I'm not one of those people who insists that she works all the time. I take time off. I'm not one of those people who hasn't had a vacation in ten years. I have a house in upstate New York. I cook, I let myself drink that extra bottle of wine, catch up on Netflix. Because of the stress of my job, I have to buy more Spanx than I would otherwise like to. I don't get to do all the things a 50-year-old woman would want to do, but this is great stress. It's high-quality stress. It's not stress like, "Oh my god, someone's sick." I've had a very blessed life.
On the reason why she's learned to network well:
At many of the events I have to go to outside of work hours, I'm actually speaking at them and talking about why we're doing the work we're doing. But I'm also doing informal networking with people who are really fundamentally critical to the health and strength of the city. I don't go play golf with these guys. I can certainly keep up with them drinking. You never know what's going to come out of any interaction. People don't really understand what the administration is up to, and I'm there to explain it.
On why we need more women in not just politics, but local, city politics:
After the election heartbreak, this is where you just pull yourself together. You go out there, you go to the march on Inauguration Day. You all sit around and figure out what went wrong. It's now on you. Stay focused. Don't get depressed. We need more women in politics at every level, particularly in cities. You don't need to be an urban demographer. More people live in cities. More wealth is in cities. More immigration is in cities. If you are interested in how cities work, how the future works, you have got to get involved at the local level. There's a way to take these ideas and feel them making a very concrete impact. Women relate to the world in a more tangible, personal way, and the city government is a great place for them. When New York City has its first woman mayor, it will be a wonderful feeling.