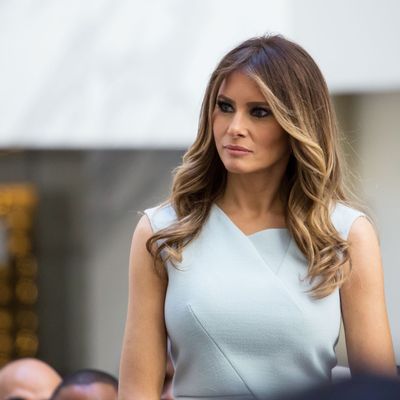 Melania Trump.
Photo: Cheriss May/NurPhoto via Getty Images
Last month, Sophie Theallet was the first designer to say she will refuse to dress future First Lady Melania Trump. Her press release sparked a storm on the red carpet, with many reporters (including our own) confronting other designers with an uncomfortable question that broke through the fashion industry's polished veneer: Would they dress Mrs. Trump? Why or why not?
Of course, designers only have so much control over who buys their clothes. But some seized the chance to make a political statement. Read on to see who would be happy to dress Melania Trump, who would rather not, and who wasn't quite ready to answer the question.
***
DESIGNERS WHO SAY THEY WILL DRESS MELANIA
Tommy Hilfiger
"Yes, I would dress Melania. I think she is a beautiful woman who would make any designer's clothes look great" —WWD
Diane von Furstenberg
"Donald Trump was elected and he will be our president. Melania deserves the respect of any first lady before her. Our role as part of the fashion industry is to promote beauty, inclusiveness, diversity. We should each be the best we can be and influence by our example." —WWD
Sam and Libby Edelman
Sam: "Oh, I would love to dress her. There is nothing that would make me happier. And I would love her to wear Sam Edelman's shoes. Beautiful lady. She is going to be First Lady and represent our country throughout the world, and she should wear Sam Edelman shoes."
Libby: "She is the First Lady, he is the president, and we should support them."
Sam: "And she is beautiful." —The Cut
Marcus Wainwright, rag & bone
"It would be hypocritical to say no to dressing a Trump. If we say we are about inclusivity and making American manufacturing great again, then we have to put that before personal political beliefs." —The New York Times
Thom Browne
"Out of respect for the position of the First Lady of our United States, I would be honored to be considered to design for any First Lady of the United States." —WWD
***
DESIGNERS WHO SAY THEY WON'T
Marc Jacobs
"I have no interest whatsoever in dressing Melania Trump. I didn't see [Sophie Theallet's] letter. Personally, I'd rather put my energy into helping out those who will be hurt by [Donald] Trump and his supporters." —WWD
Derek Lam
"I've been slammed on social media when expressing an opinion about the election outcome. I was warned by people that I should not make an opinion which could alienate a client. Having been duly warned, my response is, while I have incredible respect for our country's political institutions, I find it challenging to be personally involved in dressing the new First Lady. I would rather concentrate my energies on efforts towards a more just, honorable, and a mutually respectful world. I don't know Melania Trump personally, so I don't wish my comments to seem I am prejudging her personal values, but I really don't see myself getting involved with the Trump presidency." —WWD
Timo Weiland
"I in no way want to support a lot of the changes that are happening and the appointments that have been made … I just, I can't. I was 110 percent behind the other candidate for very, very specific reasons, was brokenhearted about the results, and am no less brokenhearted now than I was then. Voluntarily, I will not." —The Cut
Tom Ford
"I was asked to dress her quite a few years ago and I declined. She's not necessarily my image … The First Lady — other than the fact that I'm a Democrat and voted for Hillary and very sad and disappointed that she's not in office — even had Hillary won, she shouldn't be wearing my clothes. They're too expensive. And I don't mean this in a bad way. [She needs] to relate to everybody" —The View
Phillip Lim
"It's been such an emotional roller coaster of an election process. The result has only confirmed my belief that we must stand for what we represent as a brand, so my sentiment is still the same. As a global brand, we are always looking to partner with individuals that we have authentic relationships with — ultimately, women and men that share similar set of values, desires and ideologies: inclusion, diversity, justice, consciousness, innovation … With that said, we do not have a current relationship with Mrs. Trump and I don't foresee a relationship developing under the Trump administration." —WWD
Humberto Leon, co-founder of Opening Ceremony and co-creative director for Kenzo
"No one should, and if she buys your clothes, tell people you don't support it. You know who you are!" —in a Facebook post
***
THE UNDECIDED
Michael Kors
"That's none of my business." —The Cut
Jeremy Scott
"I'm going to give Melania the benefit of the doubt … Obviously [Melania] looks great, but I can't divorce it from who she is. I don't know Melania. We don't know Melania" —Vanity Fair
Cynthia Rowley
"In the midst of this heated debate, the question actually seems somewhat irrelevant. She can simply purchase whatever she wants, so how can we control it? Just because she's shown wearing a designer does not mean that designer is endorsing her, her husband, or any of their beliefs. Checking someone's ethical beliefs before they're allowed to purchase sets up an exclusionary dynamic that feeds into the exact mentality that is preventing us from moving forward in a positive direction. Some people say fashion and politics should never mix, but when given the choice, I think you should address and dress your conscience." —WWD
Carolina Herrera
"I think that in two or three months they'll reach out, because it's fashion. You'll see everyone dressing Melania. She's representing the United States." —Business of Fashion
John Varvatos
"I think it is silly. Melania Trump hasn't done anything to anybody. You don't have to be a supporter. But listen, this is what is great about this country: Everyone is entitled to their opinion. If that's [Sophie Theallet's] opinion, that's okay. It is not my opinion. What is great about this country is that everyone has a voice." —The Cut
Vera Wang
"We have not been contacted by the Trump campaign or administration thus far. But the First Lady–elect should support American fashion, as did her predecessors." —WWD
Waris Ahluwalia, actor & designer
"I'd love to see designers take a stand. I think designers, one way or another, should, could take a stand. They have such great influence, and it'd be nice to see that, to see [them] use that influence. It's a very direct statement, but I wouldn't tell anyone which way to do it." —The Cut
Rebecca Minkoff
"I don't know. I'm conflicted about it. I have yet to dress a president, so I don't have hopes that I will. But to me, to each their own. We had already designed a whole range of safety-pin items, prior to them becoming symbolic, and so then we made an announcement that we are donating 100 percent of the proceeds to the ACLU." —The Cut
Joseph Altuzarra
"I don't want to not dress people I disagree with."—The New York Times
Donna Karan
"There's nothing you can ask me! I believe in Hillary. I believe in everything about the Clintons. I adore them. I've been with them since the beginning when he [Bill] first became president. I support the Clinton Global Initiative. If it weren't for him, I wouldn't be doing what I do today, which is conscious consumerism. I think he's created an inspiration for me that I could not be who I was today had it not been for the Clintons. And! She wore my Cold Shoulders to the first White House dinner." —The Cut
The Cut's responses were reported by Alexa Harrison at the Angel Ball; Suzanne Weinstock Klein at #TodsCircus; Fawnia Soo Hoo at the American Museum of Natural History's annual Museum Gala; and Katie Van Syckle at the Footwear News Achievement Awards.
This post has been corrected to note that Joseph Altuzarra is undecided.