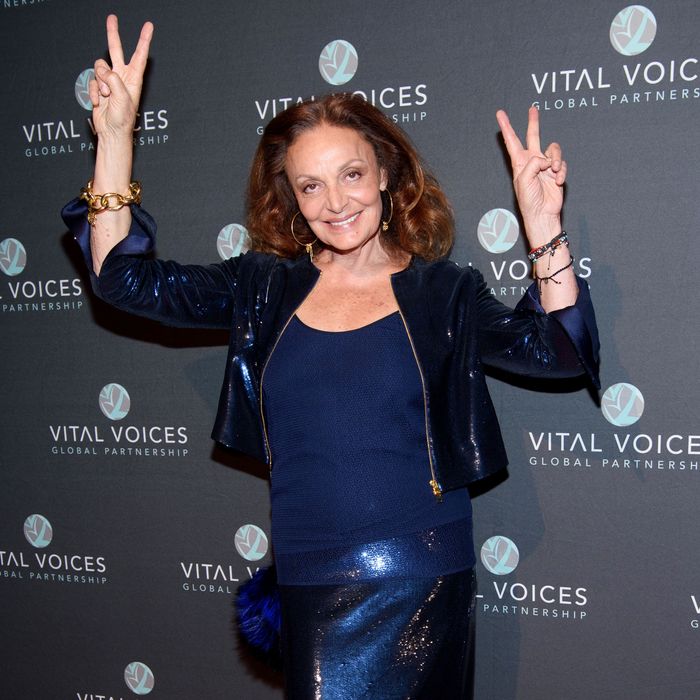 Diane von Furstenberg.
Photo: Dave Kotinsky/Getty Images for Vital Voices Global Partnership
You may have been fooled by her glamorous parties, travel, and, well, jet-setting, but Diane von Furstenberg is not a jet-setter, according to DVF expert Diane von Furstenberg. Instead, she's just "an old lady who knows everybody," she joked to Washington Post fashion critic Robin Givhan last night during a talk held at the newspaper's HQ.

Jet-setter or not, von Furstenberg has rubbed shoulders with some fascinating figures over the years. She told a story of meeting with Diana Vreeland when she first relocated to New York to make it as a designer. "If you think that Anna Wintour is intimidating, let me tell you, Diana Vreeland was more intimidating," she said, adding that the venerable fashion editor gave her some advice about starting up in the fashion world, including placing an ad in Women's Wear Daily. Intimidated or not, DVF had the temerity to ask Vreeland if she could use her phone to get the process started.

The designer also talked about the reactions she received after her somewhat-vague comments about dressing Melania Trump. (She said, in part, "Melania deserves the respect of any First Lady before her.") "I got all kinds of feedback," she said. "Some people congratulated me [because] they understood it one way. Some people congratulated me [because] they understood it the other way." Still, the designer let slip some comments that suggest she's not a huge fan of the president-elect. She mentioned writing in her memoir that "one of the reasons I left New York [in the '80s] is that it had become the city of Donald Trump." And she talked about working with the women's-empowerment nonprofit Vital Voices, which she hopes will make a difference in these difficult times. As she put it, "When there are tragedies, it's always the women who take over." Watch the full talk below.