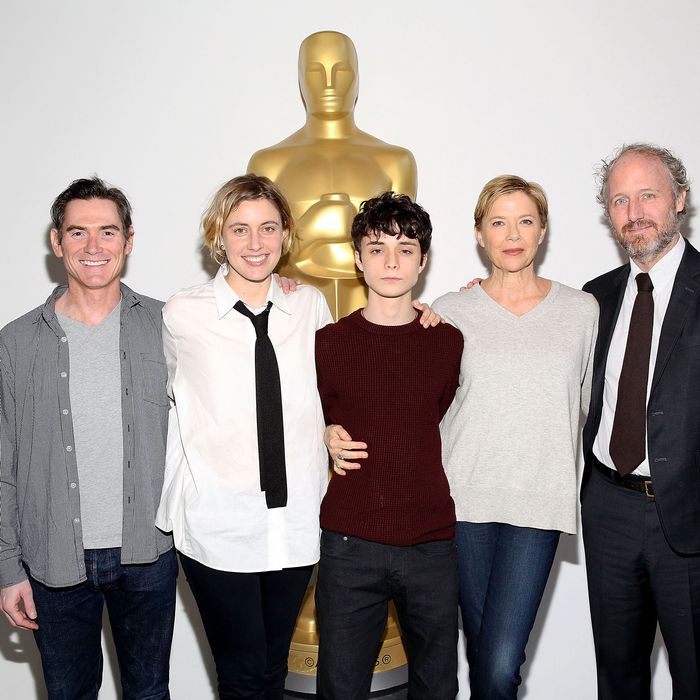 Mike Mills and cast members Billy Crudup, Greta Gerwig, Lucas Jade Zumann, and Annette Bening, of 20th Century Women.
Photo: Robin Marchant/Getty Images for Academy of Moti
Writing about strong women may always be relevant, but the political overtones in director Mike Mills's new movie, 20th Century Women, seem particularly timely on the eve of a Trump presidency.
"I didn't quite intend it to be like that. The feminism in the film comes from being a son, a little brother, and wanting to talk about the women I love in my life," Mills told us at Project Cobalt's Monday-night screening. "But now I do feel like that thing of normalizing such a radical kind of violent disrespect for women, by the president, just seems like a state of siege that everyone has to fight against, heterosexual, cisgender men included."
Mills, who's married to fellow artist Miranda July, is still having a hard time talking about the president-elect. "It's really weird to be in this town with that man over there, Mr. Trump, like to be so close," he said, referencing Trump Tower's close proximity to Florence Gould Hall. "I think that any ally to women has to call out misogyny when it's happening. Let's not let it get normalized."
The film, an exquisite love letter to Mills's mother and sisters, is set in 1979 and includes scenes dating back to the Depression. Yet its depiction of suppressed female ambition seems just as plausible today. At Sunday's gala for New York Stage and Film, honoring Bening, Mills recalled the limitations he witnessed as a teenager.
"One thing that I did see, especially from my mom, was the struggles that she went through. She wanted to be a contractor, she wanted to be a pilot, she wanted to be an architect, all these things that women aren't supposed to be. Just getting loans from the bank was so hard for her, she has to get my dad to co-sign even though she was the one that made all the money in our family."
The screen version of his mother, a heady character played by Annette Bening, is an artful force of nature, constantly bumping up against the constraints of her time. "Watching her fight for her whole life just to be who she wanted to be, who her spirit wanted to be," Mills said, "I kind of felt like I had a front-row seat to that the whole time. I was like her pal through that. So I kind of learned about fighting."
Additional reporting by Kat Ward