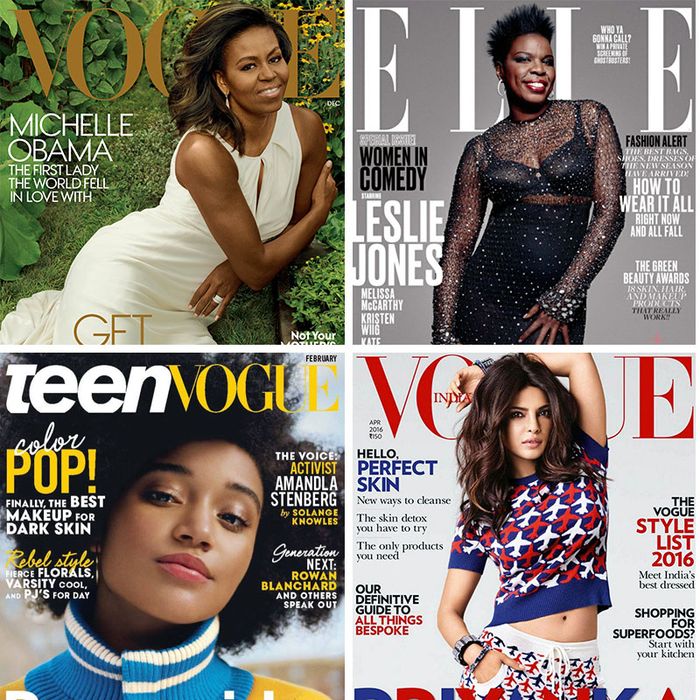 Magazine covers from 2016 featured a more diverse cast than before.
According to the Fashion Spot's biannual post–Fashion Month report, there was a small uptick in racial diversity on the recent runways, although size diversity has a long way to go. Today, the site released its yearly data on magazine-cover diversity, which had slightly rosier findings.
The site reported that out of the 679 cover appearances they tracked, 29 percent featured people of color, an improvement on past years (and a 6.2 point increase from 2015). Teen Vogue and Paper were among those singled out for their commitment to diversity. Other titles didn't fare as well: Harper's Bazaar only featured "white, cisgender, straight-sized models" this year, according to the report; Love has not featured a model of color on its cover in at least three years. British Vogue featured a single person of color (Rihanna) on its cover slate this year.

As on the runways, size diversity remains a thorny problem. To quote the report, "How did the year's magazines fare when it came to body type? In a word, miserably." 0.9 percent of the celebrities and models on covers were size 12 or over: They included Ashley Graham on Cosmopolitan, Adele on Vanity Fair and Vogue, and Leslie Jones and Melissa McCarthy on Elle.

For the first time, TFS also tracked appearances by models over 50 and trans models, finding that 5 percent of those featured on covers were women over 50 (notably Barbra Streisand on W and Michelle Obama on T and Vogue) and 0.7 percent were trans. Four out of five of the trans model appearances were by Hari Nef, which reinforces the remarks she made about trans tokenism and the need for more inclusivity last week. Let's see if things improve in 2017.