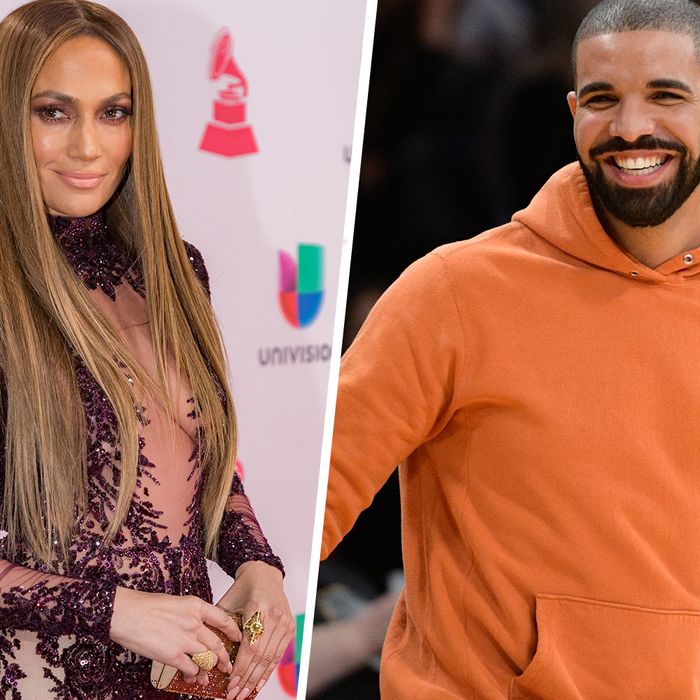 Jennifer Lopez and Drake.
Photo: Christopher Polk/Noel Vasquez/Getty Images/GC Images
Drake and Jennifer Lopez have been spending a lot of time together lately — making music and posting suspiciously coupley photos on Instagram — leading all of us to wonder if they're really romantically involved or just drumming up publicity for their new collaboration. But on Thursday night, Lopez and the rapper were caught oncamera kissing and dancing at a prom-themed event, which seems to confirm that they're possibly an item.
As Uproxx noted, Jas Prince posted clips on Snapchat of the pair slow-dancing, kissing, and, of course, getting crowned king and queen of a Winter Wonderland prom. The event was actually a family affair: It was reportedly a birthday party for Jennifer Lopez's father, and on top of that, Drake's own father, Dennis Graham, also serenaded the crowd with "She's Your Queen to Be."
There were also tons of Instagram videos of the pair having the time of their lives. The clips also include music by the pair, so it seems like they previewed their new song (which sounds great) at the event as well.
Whether they're actually together or not, here's hoping it was a prom to remember.