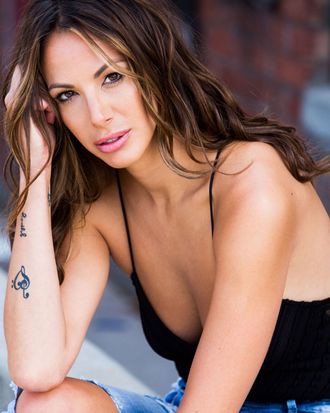 Kristen Doute.
Photo: James Banasiak
Kristen Doute slides into the wine bar looking dazed. It's raining out, and I'm thinking she might be a little tipsy — aren't the stars of Vanderpump Rules always a little tipsy? — but as she walks toward me, I realize she's actually going a bit cross-eyed. "She ran into a glass door," her publicist informs me. Doute, wearing a sequined blazer, a tank top, and a knot the size of a quarter on her forehead, extends a lithe, spangly arm to shake my hand before making her way to the bathroom to assess the damage. The run-in with the door happened just before, at the office of another media company. It was a really clean glass door, the publicist assures me.
I wriggle into a booth with this publicist, who has dark-blonde hair, and Doute's other publicist, who has dark-blonde hair, and Doute's boyfriend, who is here for moral support, while Doute collects herself. Here's something that has changed since Doute signed up for a Bravo reality show five years ago: She travels with an entourage now. She is also no longer a waitress, even though Vanderpump Rules is still, ostensibly, about the 30-something waitresses and bartenders who work at Real Housewife Lisa Vanderpump's Sexy Unique Restaurant (SUR) in West Hollywood. Vanderpump fired Doute from SUR last year, after Doute drunkenly told a manager to "walk the fuck away" on-camera. But she remains a central cast member on the show because she's beautiful (slender; model-height; just the right amount of Botox), and because she is so embedded in SUR's internecine feuds that the show simply could not go on without her. Doute has achieved the new American Dream: starring on a workplace reality-TV show without ever having to go to work at all.
Still, she's a professional. Doute comes back from the bathroom, head throbbing, and orders a bottle of wine to share. When the waiter returns to present the vintage, she tells him, "Just pour it, love. It's Pinot Grigio, we know we love it." Then she explains why Katie was not slut-shaming LaLa when she called her a whore, which happened on last week's episode.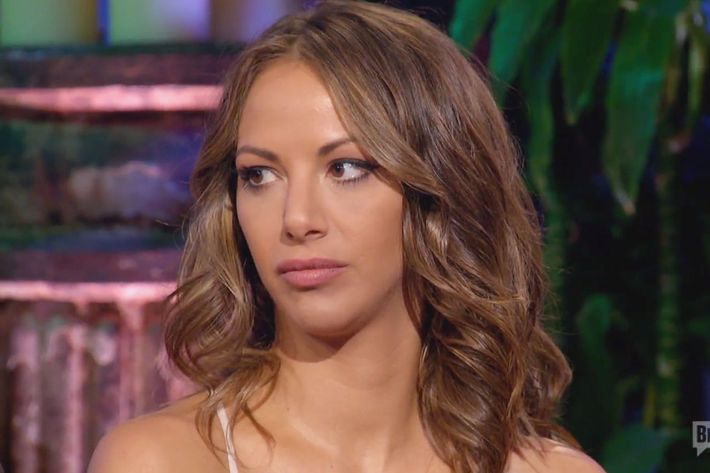 The drama so far this season has centered on a war of words between Katie Maloney, a SUR waitress who is Doute's friend, and LaLa Kent, a SUR hostess who is not. (For now, anyway; loyalties in the SUR universe are renegotiated about once a quarter.) In a series of confrontations, Kent called Maloney, well, fat, and Maloney called Kent, well, a whore, and now some fans are accusing Maloney of slut-shaming Kent. Doute doesn't see it that way.
"LaLa definitely started that," she says, leaning into the table. "I keep getting this a lot on social media, and maybe I just don't understand it, but this whole slut-shaming thing … We're not shaming her for dressing in a certain way, you know what I mean? Like Katie says, she calls it as she sees it." This was Maloney's excuse for calling Kent a whore: She calls it as she sees it. Many of the women on the show have alleged that Kent has some sort of arrangement with an older (possibly married) man, so that's what they are seeing. And anyway, when Kent called Maloney fat, that was "body-shaming," says Doute.
It's this tendency to fall face-forward into the drama that has made Doute so entertaining to watch for the past five (five!) seasons of Vanderpump Rules. She has not always been likable (see: the time she hooked up with her best friend's boyfriend), but she has always been real (see: the time she admitted the hookup happened while the two were watching Drive). She will cop to pretty much anything. When I ask her whether or not the cast uses Adderall to stay alert while filming and drinking (Doute's co-star Stassi Schroeder has admitted as much), she blurts, "I mean, I take Adderall." She has a prescription for it, she says, and some other cast members have a prescription for it, so no one she knows is abusing it. Schroeder may have been taking too much in the early days, Doute allows. "I think when she was super, super-skinny in season one … she was totally on that Adderall, Diet Dr. Pepper diet," she muses.
Doute is a vegetarian. As is customary with reality stars, she recently launched a lifestyle blog, but hers is focused on vegetarian recipes, restaurant recommendations, and "stories about living as a vegetarian." It's called Vegiholic. "If I can get, like, younger readers or younger viewers or parents of people to get their kids to start eating healthy now, it's kind of my shtick," she says. "I eat really healthy, but I still like to party, you know what I mean?"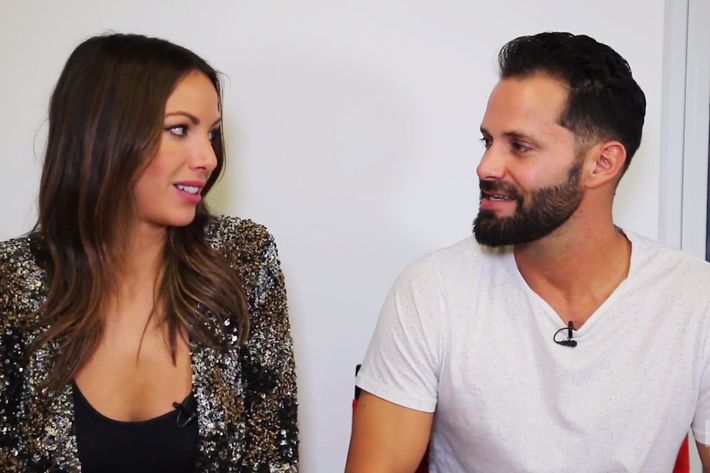 Doute's boyfriend, the one who is sitting with us, does the photography for Vegiholic. His name is Brian Carter, and Doute met him on Bumble about a year and a half ago. With his Brawny-man shoulders, dark beard, and capacity for empathy, he is a massive improvement on her last boyfriend, the dreaded SUR busboy/DJ James Kennedy. Carter seems to genuinely care about Doute; of his commitment to appear on the show with her, he says, "I want to be a part of her life, so I made the decision." They live together in Los Angeles with two dogs and no trust issues.
This kind of healthy relationship is new for Doute, who once proved Kennedy was cheating on her by searching through his Uber receipts. Now that she has a normal, boring boyfriend, she tells me, she is writing a book about how to catch cheaters. "I love a good stalking session, I love to investigate," she says, eyes widening. "It's like my favorite thing, especially on social media, and I have a faithful boyfriend who does not fill that void."
Doute is so confident in her stalking abilities that she plans to publish this "easy to read" guide to internet sleuthing next year. She offers me one tip in advance: Get your boyfriend's iTunes password. It's the "golden ticket," she says. "I mean, the iTunes password is also — if you have an iPhone — it's the 'find my phone' password, and it's the iCloud password." All of this allows you to "track where they're at at all times." Carter nods solemnly.
"I'm not a therapist," Doute adds. "It's up to you what to do, if you find out that he did it."
Though these side projects are fun for Doute, it is clear she values Vanderpump Rules above all. Before we finish the Pinot Grigio, I ask her what she would like to be doing in five years. The show, still? "I have no idea," she says. "I mean, that would be awesome."