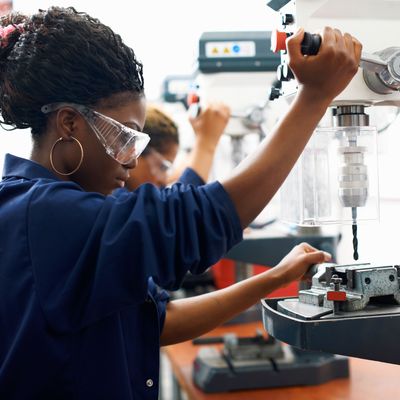 Photo: Peter Muller/Getty Images
At a listening session in Philadelphia with the Education Law Center, a young woman of color told a story about getting her period in school when she wasn't expecting it. After being denied access to the bathroom, she decided to tie a sweater around her waist to cover the back of her pants. A teacher then told her to remove the sweater — it didn't comply with the school's dress code.
These kinds of policies — clothing restrictions, codes barring certain hairstyles, policies that regulate kids' "attitudes" and discourage "disruption" — are common in public schools in the U.S. But research shows that vague and implicitly biased guidelines are contributing to a large percentage of black girls being pushed out of the system before they even make it to graduation.
When children are punished for unfair and unspecific infractions like "defiance," they are more likely to mistrust adults, they end up with lower grades from losing class time, and they have a higher likelihood of dropping out of school entirely. Black girls, according to research by the National Women's Law Center, are on the receiving end of a disproportionate percentage of unfair discipline. This is responsible for what is known as "push-out": when a school's disciplinary actions encourage a student to abandon their education.
In 2014, the NWLC and NAACP Legal Defense and Education Fund released a report that shared details on how often black girls were punished in school, and why. "African-American girls often encounter deeply embedded stereotypes that reinforce racial and gender biases in the classroom," the report says. Because of this, in the 2011–2012 school year, "twelve percent of all African-American pre-K–12 female students were suspended." This was six times as many suspensions as those doled out to white girls. It was higher than all groups of girls in general, and higher than suspensions given to white, Asian, and Latino boys.
Black girls accounted for 31 percent of all girls referred to law enforcement and almost half the number of girls who experienced a school-related arrest. "Although African-American students are punished more frequently than their white peers," the report says, "they are not engaged in more frequent or serious misbehavior." Worse still, African-American students are given harsher disciplinary measures than white students for the same behavior. Remember the South Carolina student who was thrown to the ground by an in-school police officer for having her cell phone out? That's one type of disciplinary action that the NWLC would like schools to begin combating.
Adaku Onyeka-Crawford is the counsel for education at the NWLC and is responsible for a new initiative aimed at educating schools on their potentially biased and unfair policies. She put together a handy tool kit for schools called "Let Her Learn" to determine if administrators and teachers are unfairly and disproportionately disciplining young African-American women. "We've held a series of listening sessions with girls of color to talk about how they feel in school," she told the Cut. "A lot of times girls think they are being disciplined for speaking up." The tool kit helps schools properly assess their policies: Are they treating black girls unfairly?
"Is your school's policy super strict? Does your school's policy target hairstyles or clothing common to certain racial, ethnic, or religious groups? Does the policy punish students for vague 'attitude' violations?" These are some of the questions Onyeka-Crawford would like schools to start asking. "It's time to have more culturally competent schools and curriculum," she says. "What that means is actually valuing diversity and valuing the contributions of black girls, Latina girls, Indian girls, Asian girls, and Muslim girls. It's time to start dispelling stereotypes and myths. That can start on a student level, but it can also happen by finding teachers, administrators, and principals who recognize and value diversity in their student populations."
Onyeka-Crawford's suggested method — reforms in schools' conduct policies — is already happening in some school districts across the country.
The Philadelphia school district is one example where policy itself was preventing students from accessing a fair learning environment. "The school district's policy excluded students for wearing clothing that is considered a 'distraction,'" Deborah Klehr, the executive director of the Education Law Center, said. "We were explaining this to a white cis-male adult wearing a vertically striped tie and a horizontal striped shirt," she added with a laugh. "But subjective language like this disproportionately punishes black girls. We approached the school district and said, 'We want you to change your dress code policy and to stop excluding kids from class for "distracting clothing."' And they changed it. They removed that language. It was a great example of the power of working together with the systems that already exist."
Suspensions and expulsions are also forms of discipline responsible for push-out, Klehr said. "Two years ago, the Philly school district had 448 suspensions of kindergartners, 1,500 suspensions of first-graders, and 1,900 suspensions of second-graders. Over 90 percent of those suspensions were for nonviolent offenses." That year, 87 percent of suspensions given to black students overall were for "conduct," not for more severe or specific infractions like drugs or weapons. After releasing these statistics, the School Reform Commission was able to remove suspension as a punishment for kindergarten students.
These kinds of changes are what Onyeka-Crawford and Klehr hope to see more of in the future. Monique Morris, author of Pushout: The Criminalization of Black Girls in Schools, told The Atlantic in March that discipline reform in education is one stepping stone to interrupting oppression of girls of color. "Centering the voices of black women and girls moves us toward a deeper understanding about their lived experiences, and forces us to confront the routine (and often ignored) victimization, exploitation and discrimination that occur in their lives."
Along with her tool kit, Onyeka-Crawford says that restorative justice is a promising future replacement of currently unfair disciplinary procedures. But educating the educators is at least a good place to start. "When we've asked administrators to look at the data, many of them have said, 'Oh, I didn't realize that,'" she said. Klehr agreed that change can come from even the slightest shift in priorities. "We need to be especially thinking about these students who are at the intersection of race and gender and disability," she said. "Are we ensuring that we're providing them with the tools and resources they need to learn?"