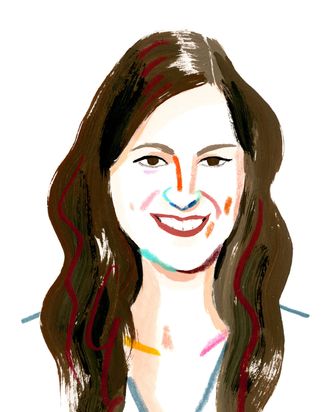 Illustration: Rebecca Clarke
Sarah Spain is a columnist for espnW, a TV and radio host on ESPN, and a SportsCenter reporter. Most days, she works from morning until late at night, and her in-box is so full that Gmail keeps warning her she'll shut down her account if she doesn't upgrade. She often gives career advice to young people who contact her, and she recently released a podcast with stories of women in sports media who had experienced harassment. She went to every game in the 2016 World Series. She has two dogs, Fletch and Banks, who have their own Instagram account. Here's how she gets it all done.
On a day in the life of a multi-hyphenate sports-media personality:
Last Monday, I started my day by waking up around 8:30 a.m. I do not like waking up early. I usually just roll out of bed and immediately feed the dogs and take them out. My husband and I barter for who has the busier morning, and whoever doesn't takes them out in the morning. I was doing Around the Horn that day, which is a show I usually do about twice a week. We have our conference call at 9:30 in the morning where we talk over the topics we are going to discuss that day. That went until about 10:30. I quickly made myself some scrambled eggs and Ezekiel toast, then I got myself dressed and did my hair and went down to the John Hancock building. I got there around 11:45 a.m., got my makeup done, and then we did the show.
At 2:30, I hopped into a cab and went straight to the ESPN studio, where I used to work. I still do some shows and my podcast out of there. I'd been working on a podcast about sexual harassment of female sports writers, reporters, TV hosts, radio-show hosts, and I had been collecting interviews for months. Every time I had a woman on the show, I asked them to share their stories with me. I spent several hours editing that podcast, telling my own story, recording my own bits and intros for each of the elements. I was done with that about six. Oh, and somewhere in there I had a quick lunch after Around the Horn.
At 6 p.m., I did an hour of prep for my radio show, "Izzy and Spain," which is a nightly weeknight show from 8 to 10 p.m. Central. I did an hour of prep on the news of the day and what the big stories were. We usually get on with each other around seven to talk about what stories we want to discuss and what we're interested in. We did the show from 8 to 10 p.m., I left the studio around 10:15, met a friend of mine that was visiting New York for a glass of wine, got home around 11:40, and immediately started writing my column that goes with my podcast every week. I was sort of falling asleep throughout. I finished around 2:45 a.m. and went to bed. So during that day, my only real breaks were a half-hour for a quick lunch and an hour to meet my friend for a drink. It's usually not that bad.
On why she enjoys not having a typical nine-to-five job:
There are no regular days in my schedule. I've never been someone who wanted to have a nine-to-five job. I hate waking up early, and I function much better at night, so it's better for me to have a schedule where there's a lot to get done, but it's slightly more up to me when it gets done. Tomorrow, I have a Skype with a class, two back-to-back interviews with outlets, I have to get my hair color done because my grays are coming in, then I have another Skype, then I have my radio show. And I go from noon to 10 p.m. straight without a break.
I start my Saturday radio show again this weekend. It's called "The Trifecta." It's me and two other female hosts. We always go on hiatus during the football season. We're starting back up with two shows in December and then we get going permanently in January. That's every Saturday from 11 to 2 p.m. Central. Beginning then, I will be hosting on Monday, Tuesday, Wednesday, Thursday, Friday, and Saturday.
On the foolproof system she and her friends have concocted to force themselves to work out:
I have ClassPass, so my workouts of choice are spin class, barre, yoga, and Pilates, and then occasionally I work with a trainer. I have a workout challenge with several of my friends where we have to work out at least four times a week, take a selfie after the workout, and send it to our private Facebook group. If you don't go four times, you have to donate 20 dollars to your least-favorite politician and post it on Facebook for everybody to see. You get one mulligan week per every couple months. We'll decide a date in advance, or you get a mulligan week when you absolutely know you're not going to get it done because that week is too crazy. Other than that, you just have to look at your schedule when the week starts and say, "These are the four days that I have to go to the gym."
We've given concessions once or twice. When the Cubs were in the World Series, my husband and I went to every single game, and I was working early morning SportsCenter, going to the game, and then doing postgame. We were like, "This is a once-every-century opportunity." The goal is not to be hard on each other but to be just difficult enough that we take it seriously.
On the unconventional way she's learned to manage stress:
I don't really have any super-healthy ways to deal with stress. I made a decision as things got busier and busier that I wasn't going to sacrifice my social life for work, so, really, I do more of everything. I'm sure this is not what they tell you to do. But I just do the things that I want to do instead of relaxing. If a friend is having a birthday party and I worked 14 days in a row, I'm going to go to the birthday party. I'm not going to say I'm too tired, I'm not going to go home and sit. This year, I got a new contract, switched agents, went on my honeymoon, the Cubs won the World Series, the holidays are happening. I'm learning as I go that it is cool to not have a nine-to-five where I have to go to the same place every day, but because of that, I have to take control of every area of my schedule. I have a radio boss, I have a writing boss, a TV boss for this show, a TV boss for that show, and an agent to work with. It's not up to them to say, "We think she has too much on her plate." It's up to me. I want to be ambitious, and I want to do as much as I can, but I'm learning how to be choosier.
On why, despite the insanity, she still finds time to talk to young people who want career advice:
It seems like a real dick move to ask people to pay you to give them career advice. My time is valuable, but as valuable as it is, instead of me having time to read a magazine and get some coffee, I talk to the person who asks for advice. If someone asks me the same questions I always get, I have taken to copying/pasting previous interactions and I'll say to them, "Look, here's a conversation I had with someone else who sent me these questions. After you look at this, if you have more specific questions, shoot me a message." That way, I can gauge if that's going to give them what they need and whether they're genuinely far enough along in their process to know what they want from me. There's only so much I can do if someone doesn't really know what they want. I can give them the generic answer for the time being, and that will hopefully help them, and if they're farther along in the process, they can come back to me with specifics.
Sometimes I will say, "I'm really busy right now and I absolutely know I can't help you at the moment, but if you send me a message in two weeks or a month, whenever it is, I'll be happy to talk to you." That puts the onus on them, and if they don't follow up, then it wasn't that important to them and they don't have their stuff together in the first place.
On why being successful in sports media means knowing a little bit about everything:
Most of the work I do is national, which means you have to know about every team, every sport, every coach, every player. I was terrified when I first started because I was like, There is no way that I have the bandwidth to know all of this at once. But as you get into it, you realize you have to know the hits and the biggest stories. And then you have to put the time in to understand the stories that you don't know because you might not follow that team every single day. It's a real point of pride and importance to me to not speak out of turn on things that I don't know enough about. I can talk about an issue, I can talk about a specific incident, but I don't want to blab on about something that I don't have the context for. You watch highlights of games. You follow on Twitter, which is really useful. It's sort of a running tab on what the biggest stories are and what's really blowing up that day.
On fighting the Twitter trolls and knowing when to not engage:
My co-worker Kate Fagan just wrote an interesting piece about the idea of the anxiety caused from constantly checking in on Twitter. As a writer and creator, if you're not taking in very much of the world, it's hard to put out something new. It can be really hard to not just parrot what you're reading and seeing everywhere else. I try to remind myself of that. I'm certainly on my phone a lot. I check in on Twitter a lot. I try to be aware of those moments where I'm having a perfectly fine day and I notice later on that I'm in a foul mood; I try to figure out what went wrong. It's usually that I got frustrated on Twitter. It's usually that I've engaged in a conversation or a debate with someone who doesn't understand what I'm trying to say. I don't like being misunderstood. I come from a whole family of lawyers.
I'm trying to get better at saying, "Why am I doing this? I don't know this person. I don't owe them anything." I do really like to know the other point of view on some things because I think it's easier to write to the opposition and you're more able to deconstruct their opinions if you understand them. But there are times when I'm just doing it because I want to be right. Then I say, Okay, put it down.
On how she handles the misogyny and harassment that is part and parcel with being a woman in sports:
I haven't reached my breaking point yet, though I know a lot of people who have. I think what happens is that it just infuriates me to the point of action. Instead of feeling defeated, it makes me want to try even harder. I'm in a really good place right now where I can handle a lot of personal attacks. If it had been ten years ago, if I was insecure about how I looked and my career and who I was, about whether I'd be successful, it would have been different. I'm at a place right now where I can take all of that in and say, "I'm super happy. I love my life. I love my job. I'm being validated by my peers and my bosses and my colleagues. Who cares what you think?" Of course, every once in a while someone will say, "You look fat today," and that doesn't feel good, but I already know what I look like. I look at myself every day.
A lot of the trolling and the anger that comes in response to women working in sports is coming from a place of intimidation. I had Jessica Mendoza on my podcast. She was the first woman to call an MLB playoff game. She was a hall of famer at Stanford, an Olympian; she also was premed. She graduated from Stanford in three years and got her masters in her fourth year, while playing for the softball team and training for the Olympics. But somebody who watches sports on TV has decided for himself that she's just a pretty face who plays softball and she's getting more attention than she deserves. Meanwhile, he's just some schmuck who literally has no accomplishments other than watching sports all day and talking about stats. When you look at that discrepancy, you can understand why he might be intimidated by a nonstop, ever-moving life full of accomplishments. But I always think, hey, you can worry about it or keep up. Sorry!