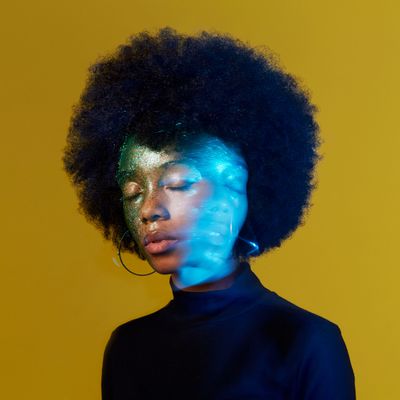 Photo: Mads Perch/Getty Images
With the rise of apps tailored to meet black hair needs, the marked expansion of shade ranges in cosmetics to (finally) address a broader range of skin tones, and an upswing of black-owned businesses joining the beauty space, you could say it's been a banner year for black beauty. But the Environmental Working Group (EWG), which has been accused of engaging in fearmongering tactics on more than one occasion, disagrees.
A report released by the advocacy organization yesterday asserts that one in twelve beauty products marketed to black women are fraught with harmful ingredients. Fewer than 25 percent of black beauty-market items pose a low threat, the group claims, compared to 40 percent of beauty items marketed to the general public.
EWG analyzed 1,177 items, half of which were hair-care products targeted to African-American and curly-haired women. Other items tested included a broad scope of skin-care and makeup products. Using EWG's toxicity-rating system, where products are attributed a score between one and ten, with ten designating the highest potential health hazard and one the lowest, the group determined that 8 percent of the items posed a serious health hazard. The presence of fragrance was the most common concern, followed by parabens, or chemicals that prevent bacteria and fungi from growing in creams and emollients.
In its lengthy report, it appears EWG is determined to rouse suspicion about the safety of a number of beauty products, but it's important to note what the group characterizes as harmful. Fragrance, for example, garners an eight on the EWG harmful-ingredient index because of the ingredients' capacity to spur irritation or allergic reaction. Parabens are also scored harshly, though their ability to measurably disrupt the endocrine (hormone) system, as EWG argues, is widely dismissed industry-wide. Another rogue ingredient, retinyl palmitate, incites tumor growth, EWG claims, but even the Skin Cancer Foundation disagrees with that notion.
It's important to take stock of the ingredients that make up your favorite brands, sure, but think twice before tossing a product featured on EWG's list. The scientific community seems to reject a vast portion of the group's declarations.