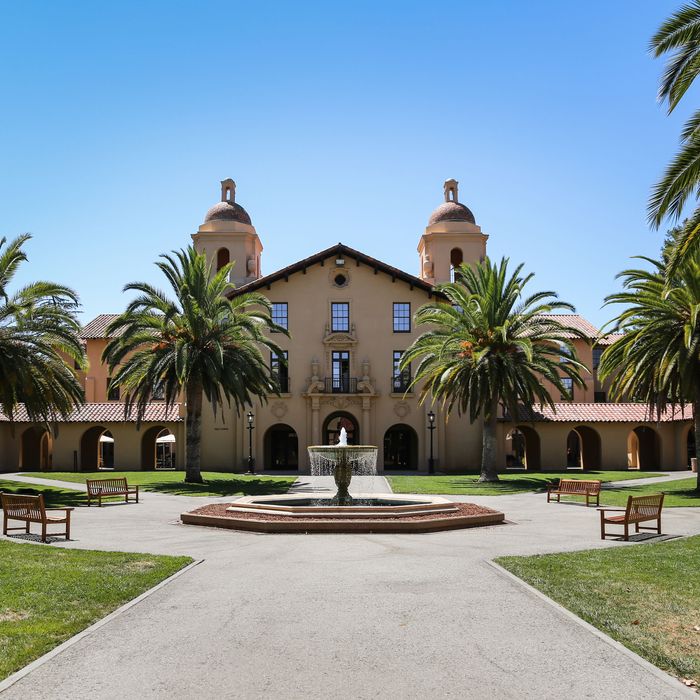 Stanford University.
Photo: Andriy Prokopenko/Getty Images
In 2012, when Michelle Karnes was an untenured professor at Stanford, she claimed that the man who hired her, professor and former dean Stephen Hinton, sexually harassed her. Karnes reported that Hinton told her he had a "crush" on her, was "constantly thinking about her," kissed her on the lips, and met her at the gym even after she told him she wanted to end their friendship. Hinton continued to deny this, though a university investigation eventually found that he had made "unwanted sexual advances."
In a new interview with the Guardian, Karnes says that she was pushed out of her job at Stanford because she spoke out against the older, more experienced faculty member. She and her husband Shane Duarte had been hired at Stanford as a "dual-career academic couple"; come 2015, she was approved for tenure, while Duarte, who was not on a tenure track, lost his position as a lecturer. Karnes believes this is retaliation for her claims of sexual harassment:
"It was psychologically really difficult for me," Karnes said, noting that she struggled with depression for the first time in her life. "To have Shane used as a weapon against me was really painful."
Karnes and Duartes's lawyer also says that fellow professor Tanya Luhrmann (who is married to Richard Saller, the dean of humanities and sciences at Stanford and a friend of Hinton's) "repeatedly encouraged Ms Karnes to leave Stanford." Per the lawyer, Luhrmann also reportedly told Karnes "she should try to appease Mr Hinton as he was a powerful person in the University" when Karnes first told her about Hinton's behavior. Luhrmann told the Guardian that she told Karnes to talk to someone more official about the sexual-harassment claims and that she "often gave Michelle mentorly advice."
Christine Helwick, a lawyer hired by Stanford to investigate this particular case, did confirm Karnes's claims that Hinton made "unwanted sexual advances," but did not believe that Duarte was fired due to retaliation over the incident.
Karnes and Duarte both now work at Notre Dame. Karnes's allegations come after this summer's high-profile sexual-assault case of ex-Stanford swimmer Brock Turner, as well as a lawsuit filed earlier in December that claims Stanford acted with "deliberate indifference" when it came to sexual-assault claims.

Update: A Stanford spokesperson provided the Cut with the following statement on Tuesday:
Sexual harassment has no place in the Stanford community, and claims of sexual harassment are taken very seriously here. The university investigated this matter thoroughly, using an independent outside investigator.

The university as a general practice is unable to discuss individual personnel matters in any detail, but because of the information that has already been made public in this case, we can say the following: The outside investigation found that what occurred in this case did not constitute sexual harassment under university policy or the law. The investigation also found that no retaliation took place in the case. Indeed, the individual who spoke with Professor Karnes about this matter provided her with the name of a sexual harassment adviser at Stanford with whom she could discuss her concerns. Professor Karnes later received tenure at Stanford.

It is worth noting as a general matter that when partners of faculty members coming to Stanford seek the university's assistance with employment at Stanford, it typically takes the form of a limited-term position, to help acquaint them with the community and give them time to find a longer-term position. The spouse in this case was informed from the beginning and throughout his time at Stanford of the limited-term nature of his employment.