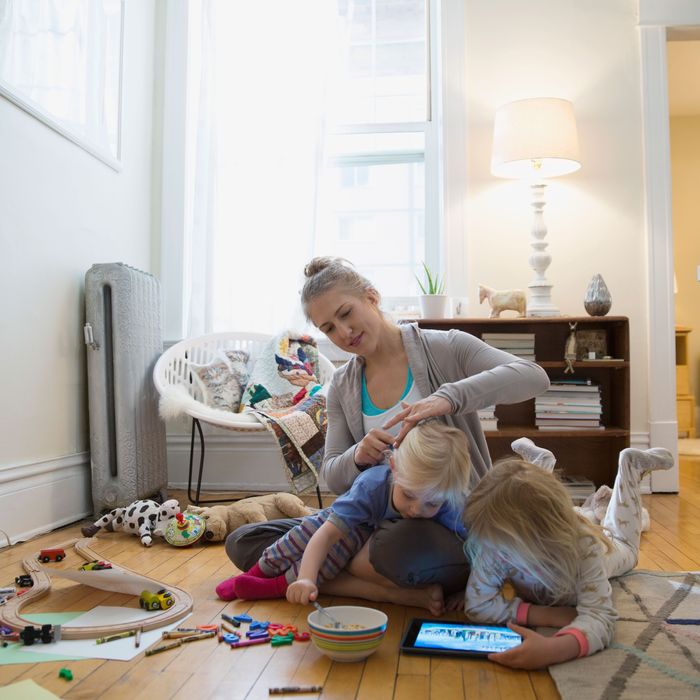 Having young children can place economic burdens on families.
Photo: Hero Images Inc./Getty Images
With a lack of family-friendly policies in most workplaces, parents across the U.S. often find themselves struggling to support their families financially while providing care for their young children. As a result, those with kids under the age of 5 are more likely to have lower incomes and lower employment rates, a new report found.
Demos, a New York think tank, quantified for the first time the economic hardships facing working families with young children in a new report called "The Parent Trap." The organization built a regression model using data from the Current Population Survey's 2013–2015 Annual Social and Economic Supplements. They found that having kids under the age of 5 is associated with a $14,850 drop in income for two-parent households, and a $16,609 drop for single women.
Single mothers were found to have a 15 percent higher risk of living in poverty than their childless counterparts. Additionally, mothers and fathers who have partners are 3 percent more likely to live in poverty than childless couples. Furthermore, partnered mothers with young kids have a 19 percent decreased rate of employment than partnered women without children. Yet once kids reach school age, parents' incomes increase, women tend to return to the workforce, and families are less likely to live in poverty.
"Today's lack of paid leave, unstable work schedules, low pay and severe shortage of high-quality, affordable childcare too often forces parents to choose between caring for and financially supporting their family," Amy Traub, the report's author, said in a statement. "Parents and families shouldn't be trapped between these impossible choices. We need companies and policymakers to come together and put in place policies that support working families, which ultimately support our economy as well."
The report recommends implementing policies that raise the minimum wage, set up paid-leave insurance for working parents, guarantee reproductive rights, and more. Beyond legislation, Demos urges employers to alter their own policies: raising wages, providing leave, improving schedules, and safeguarding against discrimination. The report also noted that organizing into unions could help workers negotiate better policies.