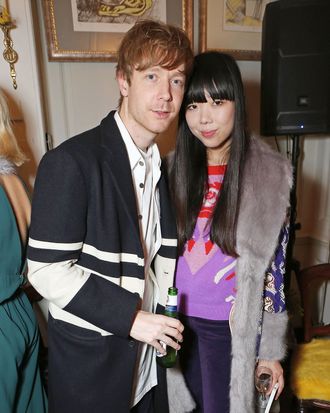 Steve Salter and Susanna Lau.
Photo: David M. Benett/Dave Benett/Getty Images
Susanna Lau, better known as fashion blogger Susie Bubble of Style Bubble, took to social media on Tuesday to announce that her boyfriend of ten years, Steve Salter, was missing.
Lau said she last saw Salter, a digital editor at i_D, at 10 a.m. on Monday morning when he left for work. He never showed up at his office, and his phone has been turned off. The couple is based in London, and someone matching Salter's description was reportedly last seen around noon heading toward Trafalgar Square.

"I realise it has not been a long length of time to be missing but if you know Steve, him disappearing like this is completely uncharacteristic. I along with his family and friends are very VERY worried about him," Lau wrote. She added that she's currently eight months pregnant.

On Tuesday evening, 12 hours after originally posting her Instagram, Lau updated to indicate that Salter had been found at a hospital emergency room.

Note: This post has been updated throughout.