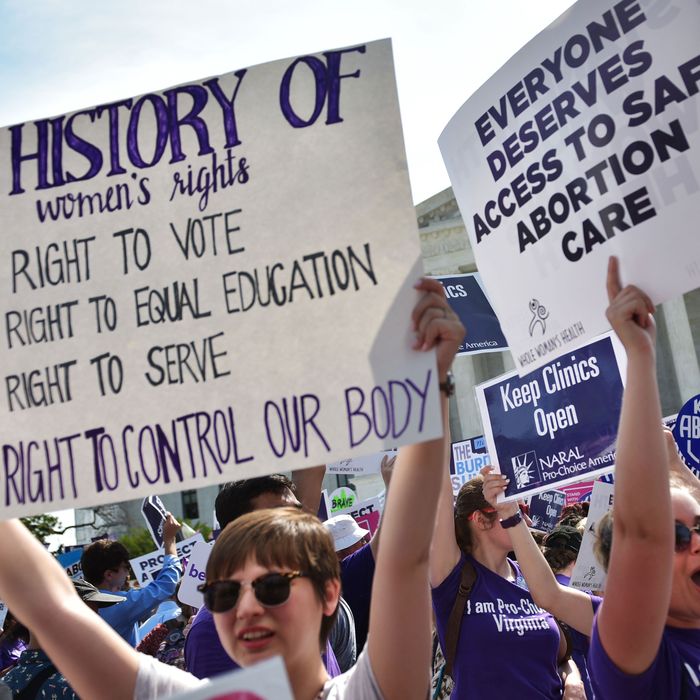 Texas's fetal remains rule is temporarily blocked.
Photo: MANDEL NGAN/AFP/Getty Images
A Texas federal judge on Thursday temporarily blocked the state from implementing new regulations that require fetal remains from abortions, miscarriages, and ectopic pregnancies to be buried or cremated.
The court granted the Center for Reproductive Rights' request for a temporary restraining order over the regulations, which were set to take effect on Monday, December 19. The order stops the rules from being implemented while the Center pursues a lawsuit to permanently block the regulations, which would force medical providers to provide burials or cremations regardless of the gestation period or the patient's wishes. A hearing for a permanent injunction is scheduled for January 3 and 4, the Center said in a statement.
"We are pleased that the court has prevented these outrageous restrictions from going into effect in Texas, where they would have created immediate and dangerous new barriers on women's access to health care," David Brown, senior staff attorney with the Center for Reproductive Rights, said in a statement. "We look forward to demonstrating that these regulations are unwise, unjustified and unconstitutional, and should be permanently struck down."
The Center has argued that the new regulations are unconstitutional and go against the U.S. Supreme Court's recent ruling in Whole Women's Health v. Hellerstedt, which found that abortion restrictions can't impose burdens on a woman's right to access the procedure without a legitimate medical benefit.