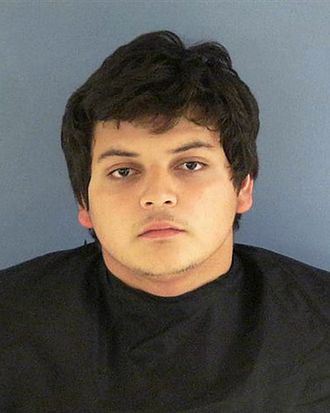 Christopher William Shows.
Photo: Courtesy of Okeechobee County Sheriff's Office
A 21-year-old man in Florida was arrested last week for allegedly shooting a woman in the head for rejecting his sexual advances and then raping her, the Okeechobee News reports. Christopher William Shows has been accused of murdering and sexually assaulting Amanda Gayle Suarez, a married mother of four who was the cousin of the woman Shows had been dating.
On December 7, Shows reportedly showed up at Suarez's home while her husband was at work and three of her children were at school (her 2-year-old child was in the bedroom). The 25-year-old woman let him into her house, at which point he began making sexual advances toward her, the News reports. Suarez rejected his advances and Shows left the house, only to return with a .22-caliber rifle he retrieved from his truck. He then allegedly shot Suarez in the back of her head as she tried to run out the back door of the home.
Shows reportedly dragged her down the hallway and into the kitchen, where he raped her and left her body in a crucifix position. He then allegedly stole Suarez's phone and later burned his clothes. Suarez's sister later discovered her body, grabbed her young child, and ran to a nearby convenience store for help.
Shows was arrested December 16 on a number of felony charges, including first-degree premeditated murder, burglary with an assault or battery, abusing a dead human body, grand theft, tampering with evidence, and attempt to commit a crime.