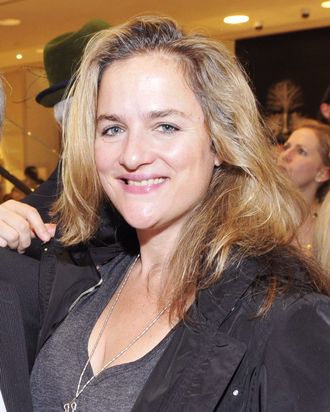 Natasha Stoynoff.
Photo: Patrick McMullan/Getty Images
Former People writer Natasha Stoynoff is continuing to use the magazine as a vehicle to speak out against President-elect Donald Trump, whom she alleges sexually assaulted her by forcibly trying to kiss her while she was reporting a story in 2005.
People.com published an excerpt from a new book she co-wrote, Chicken Soup for the Soul: Curvy & Confident, 101 Inspirational Stories about Loving Yourself and Your Body, a collection of almost 100 essays by women and a few men. (Yes, this is the state of the Chicken Soup franchise in 2016.)
Stoynoff contributed three essays to the book, and in one titled "Go Ahead, Look at Me," she details her concerns with going public about the attack. She had told some friends, family, and colleagues about the incident, but even after Trump claimed during the second presidential debate that he'd never kissed or groped a woman without her consent, Stoynoff was still hesitant to come forward. She explains:

There was something else lingering at the back of my mind: Trump was known for viciously attacking women's looks when he didn't like them or when he wanted to intimidate them. I'd already spent years feeling ashamed and degraded by his actions and words and I didn't want to subject myself to any more humiliation, especially in front of the entire world. Skip ahead one week, and that's exactly what happened.

And viciously attack her he did. She was finishing her work on the book when she decided to go public with the story, and she wrote that the project helped her make the decision. "I'd been inspired by the hundreds of personal anecdotes I'd read about women empowering themselves and not allowing other people's limited, skewed conceptions of beauty interfere with how they thought about themselves. If our Curvy & Confident writers could be brave and bare their souls, so could I … It felt good to overcome my fear and do the right thing."
After Stoynoff came forward in October with an account of the events, People editorial director Jess Cagle said that those at the magazine "stand steadfastly by her." But the day after the election, People.com began running positive stories about Trump and his "way too cute" family, a move that led some people to call for a boycott of the title. People interviewed Stoynoff a week after the election and also continued to add photos to a slideshow of Ivanka Trump and Jared Kushner's children. Now it's published an excerpt from Stoynoff's new book, albeit in the "bodies" section. People is, as predicted, continuing to walk the line between supporting its former writer and covering the Trumps.