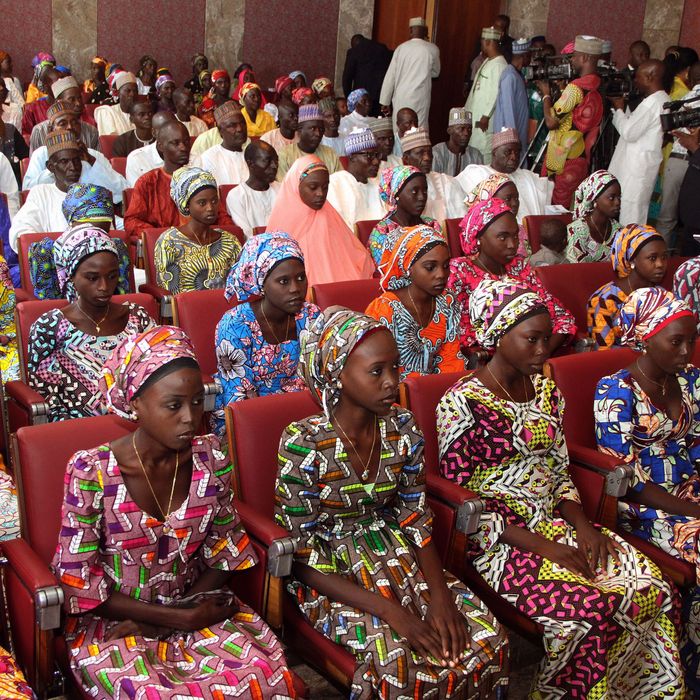 The 21 Chibok girls who were released by Boko Haram attend a meeting on October 19, 2016, with the Nigerian president.
Photo: PHILIP OJISUA/AFP/Getty Images
Ten weeks after they were released by Boko Haram, 21 Nigerian schoolgirls were reunited with their families just in time for the holidays. According to CNN, they arrived home on Thursday after a flight from Abuja to Yola in eastern Nigeria and a six-hour road trip north to Chibok.
The girls were among hundreds kidnapped by the terrorist organization in April 2014. Boko Haram released periodic videos of the girls, who were forcibly converted to Islam and kept in captivity, sometimes going for long periods of time without food. "For one month and 10 days we stayed without food," one girl, Glory Dama, told CNN. "I narrowly escaped a bomb blast in the forest. I did not know that a day like this will come, that we will be dancing and giving thanks to God among people."
The Nigerian government tried and failed to negotiate the girls' release three times; negotiations reportedly fell through because Boko Haram changed its demands each time.
There are still 197 schoolgirls in captivity, and negotiations to free them are ongoing, although a source told CNN that current negotiations only involve 83.