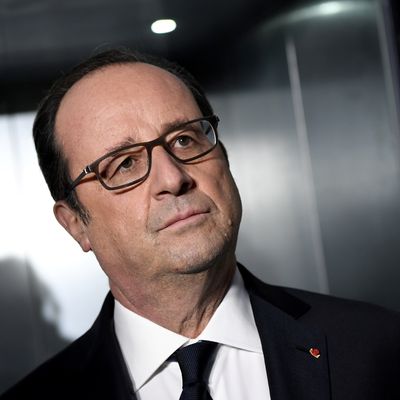 François Hollande.
Photo: LIONEL BONAVENTURE/AFP/Getty Images
In 2012, Frenchwoman Jacqueline Sauvage killed her husband, Norbert Marot, with a hunting rifle. She said that he had been violent toward her for 47 years, while her three adult daughters claimed that they too had been abused, sometimes sexually. Still, she was sentenced to ten years in prison for his murder, as her self-defense plea was not accepted.
Sauvage's case has since caused a national outcry, so much so that French President François Hollande gave her a partial pardon that would have made her eligible for parole last January. But criticism over her treatment only grew when she was denied parole twice, and over 400,000 people signed a petition calling for her release. On Wednesday, Hollande issued Sauvage a full pardon, freeing the now-69-year-old woman from prison.
An official statement read: "The place of Ms. Sauvage was no longer in prison, but with her family." In response to the pardon, Sauvage attorney Nathalie Tomasini said it was a "very strong message sent by François Hollande to all women victims of domestic violence."