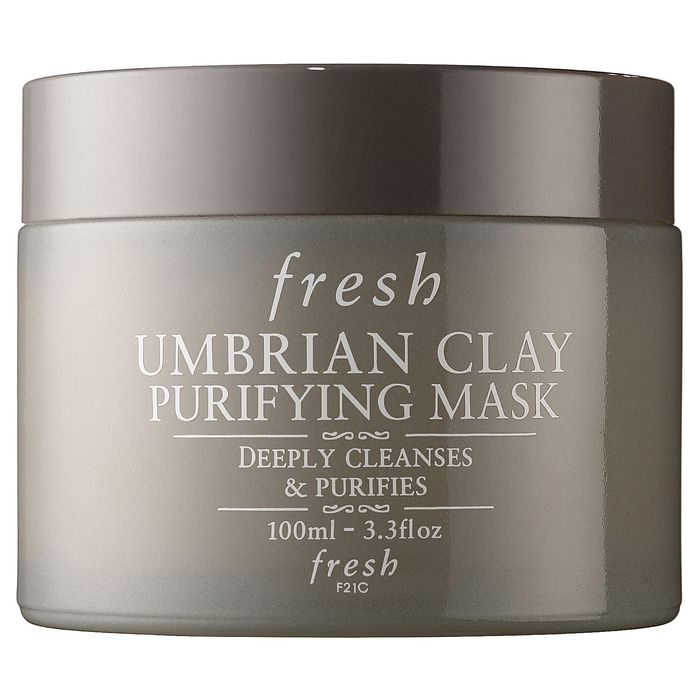 Multitasking is a lie. Andrew Sullivan calls it "a mirage," Arianna Huffington denounced the practice in a piece called "This is not success!," and there's even a fancy new term for the word called "attention residue." In my experience as a professional tester of beauty products, the lie has yet to be disproved. Cosmetics and skin care billed as "multitasking" do one thing well and nothing else.
More beauty products than ever claim to multitask, yet the results are decidedly "meh." There's the two-in-one shampoo/conditioners that sort of clean and moisturize, the cheek-and-lip duos that yield glossy cheeks and dry lips (neither of which are desirable), and hair and body shampoos, which are just … weird.
But I recently discovered one invention that can truly, proudly call itself a multitasker: Fresh's Umbrian Clay Purifying Mask. I first read about it in an old Lucky column by the defunct magazine's beauty director, Jean Godfrey-June. She raved about the original, which came in a messy, squeezable tube that frequently dried out. But when it did work, it was magic. "It fixes ANYTHING," she said. In its new tub format, which keeps the product cool and slick, the clay is like the Swiss Army knife of skin care. It's a mask, but it's also a cleanser. And a zit treatment. It seals minor cuts, and it even soothes mosquito bites.
According to Lev Glazman and Alina Roytberg, the Fresh creators, the mud used in this mask comes from Nocera Umbra, a town in Perugia, Italy (whose other claim to fame is being the site of the Amanda Knox trial). Its high mineral content allegedly works to neutralize acidity, and the mud was used by the ancient Etruscans as a fix-all. Chamomile flower and lavender water also work to soothe. It currently has more than 400 reviews on Amazon, the majority of which are five stars. It's also available as a bar, but I prefer the tub — the better to swipe and scoop to my heart's content.