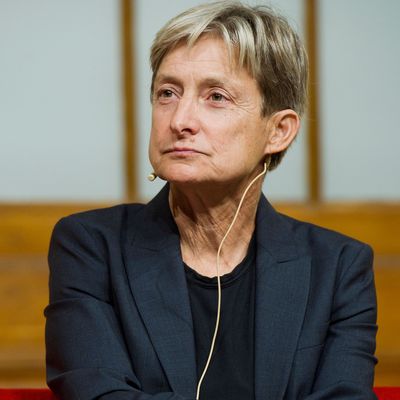 Judith Butler.
Photo: Getty Images
Mother Jones recently reported a fascinating saga about a professor squatting in another professor's Berkeley home after it was rented out on an academics-only house-sharing website. While teaching a semester abroad, Elizabeth Abel, an English professor at Berkeley, rented her home to David Peritz, a political-science professor at Sarah Lawrence, only to discover that he wasn't planning to leave without a fight.
The story has all the elements of a great niche drama: interdisciplinary feuding, legal battles, reflections on the sharing economy, strongly worded emails from noted scholars. By far, the best part of the saga is an email sent to Peritz by famed gender theorist and pop celebrity Judith Butler, one of Abel's colleagues.
Per Mother Jones, Butler was one of many within Abel's circle who contacted Peritz to try and get him to leave, penning "two epic, eviscerating emails." The first began:
"I have recently become aware of your scurrilous behavior—effectively squatting in the home of my colleague, Elizabeth Abel. If you are not out of that apartment within five days time, I will write to every colleague in your field explaining the horrible scam you have committed."
A judge eventually got Peritz to move out, but not before Butler threatened to use every inch of her academic might to make his life a living hell. As she wrote in a second email, titled "your miscalculation":
"Please accept the fact that you have painted yourself into a corner, and that you have to leave promptly, and with an apology and a payment plan, in order to avoid any further destruction to your professional and personal world. Your itinerary of self-destruction is a stellar one."

Moral of the story: It's good to have Judith Butler in your corner.