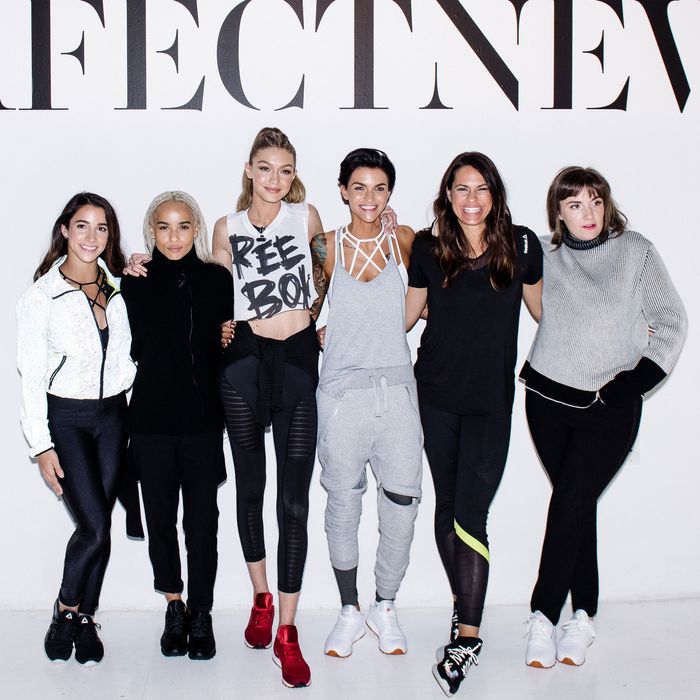 Aly Raisman, Zoë Kravitz, Gigi Hadid, Ruby Rose, Jessica Mendoza, and Lena Dunham.
Photo: Courtesy of Reebok
How do you sell athleisure in a crowded marketplace? You could tinker with patterns or fabric, team up with a celebrity designer, or do what Reebok did yesterday and bring together six boldface names to discuss female empowerment on stage while clad in your latest collection.
Lena Dunham, Gigi Hadid, Olympic gymnast and Reebok athlete Aly Raisman, actresses Ruby Rose and Zoë Kravitz, and ESPN baseball commentator Jessica Mendoza convened in Soho to talk about the traps of perfection in line with Reebok's new Perfect Never campaign, of which Hadid is the face. The idea is that women shouldn't try to be perfect: Bettering yourself, in and out of the gym, is a more worthy goal.
The messaging is a little complicated, and Hadid knows it. "It kind of seems strange that a model who's supposed to be perfect is the face of the Perfect Never campaign," Hadid says. "People were like 'why her?' That's the point. Everyone always calls me perfect and I'm just not, I'm like everyone else." The 21-year-old choker enthusiast acknowledged once again that she isn't the best model out there but she works hard and tries to be nice to everyone.
Just like you, she still has doubts, though unlike you, she has Lena Dunham to help talk her through tough times. Dunham admitted that she and Hadid talked on the phone "for hours" recently about a social-media incident. And they agreed on the importance of being transparent, as celebrities, even though there's backlash: "I've always tried to be really, really open about my struggles with illness and my struggles with anxiety," Dunham said, and Hadid jumped in, "But then you get crap for being open, like 'You said this wrong and this wrong.' I'm just trying to share my story! I'm not saying I know everything about it."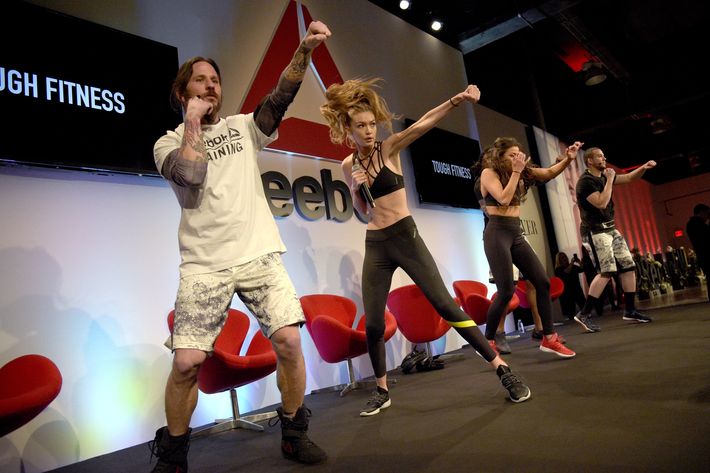 Dunham joked that she works out "once every three weeks" but she meditates to drown out the noise.
"That's a place where I can always go where I'm whole," she said. "That's a place for me where things are just boundless and there's no judgment toward myself from myself."
Hadid and Ruby Rose, on the other hand, rely on boxing as stress relief. (Before the panel, more than 50 women took a boxing self-defense class led by Gigi's trainer, Rob Piela of Gotham Gym.) Boxing "gave me discipline and made me feel good," said Rose. "I had a really good coach who focused me on being strong. You just don't have any distractions. I had an amateur boxing fight and it was something really worth striving for and living for." That, plus "lots of therapy."
Hadid praised her for that comment: "I think a lot of people are scared to get help and it's so inspiring to hear when people say 'This has really helped me.'" Raisman chimed in to say she just started going the day before and Dunham congratulated her. The panel had now turned into a support group.
Later, the Girls creator added that "there's so much stigma for women around mental health care and taking care of ourselves. Basically the ideal that we've created is the 24-hour woman who can get up, do her job, be a girlfriend, be a parent, look good doing it, and the fact is that that's too much pressure for anybody."
But Hadid will be under pressure to give Reebok a return on its (hefty-looking) investment. The company is taking a bet that you'll relate to Gigi, or at least want to look like her, or find the message empowering, or all of the above.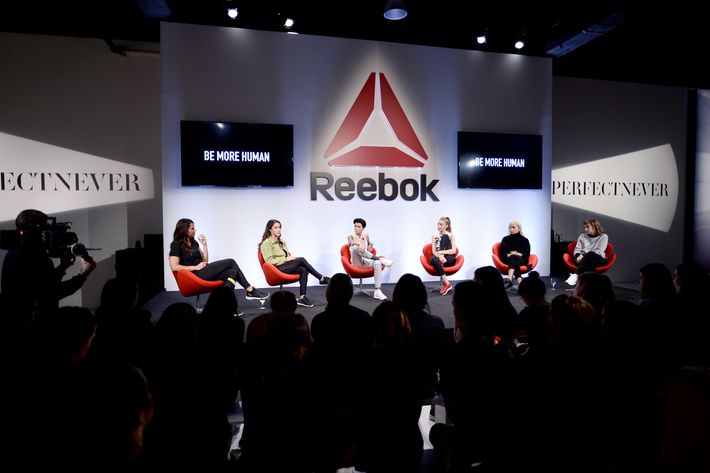 It's already seeing success thanks to the model's Instagram account, where she has more than 26 million followers. When Corinna Werkle, Reebok's head of design and apparel excellence, first welcomed Hadid to the stage, she pushed back her $350 lime-green bomber jacket to show off two things: her abs and her strappy sports bra. Werkle said the bra had become a "staple" part of the business after Hadid posted a picture of herself boxing in it.
The photo has more than 1.6 million likes, and Hadid said it's one of her top-ten posts this year. And the bra isn't just cute, it works — "When I was a volleyball player in high school I had a lot more muscle than I do now, my boobs were bigger, so I know a good bra … Trust me."
Of course, she's hardly the first model to hawk sports bras with a side of empowerment. Gisele signed with Under Armour back in 2014, but 2016 was really the year of the model-athlete deal: Karlie Kloss joined Adidas by Stella McCartney, Gigi inked her Reebok deal, and her sister Bella signed with Nike in November. Puma, not wanting to be left out of the social-media race, signed non-model Kylie Jenner over the summer. (Reebok is owned by the Adidas Group.)
The Perfect Never campaign actually launched over the summer with UFC fighter Ronda Rousey. Rousey, who had a perfect record until late last year, is training for UFC 207 later this month and wasn't able to attend the event, but she sent a video message explaining why she rejects perfection. Once it finished, a woman in the row behind me whispered "I love her." Clearly, the feminism-through-athleisure approach was working.