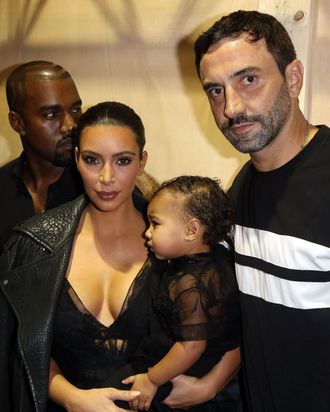 Photo: Michel Dufour/WireImage
Givenchy isn't just for grown-ups anymore. In a move to expand its black-lace grip on fashion into a broader market, Givenchy is reportedly slated to introduce a childrenswear collection for the fall 2017 season. Riccardo Tisci has already experimented with kiddie creations for both North West and Blue Ivy, but now the joy of graphic T-shirts will extend to babies and children everywhere, up to the age of 12.
The creative director is already a busy man, helming both the haute couture and ready-to-wear collections for the house, but according to WWD, his workload will now include producing two kids' collections a year — 60 pieces for girls, 40 for boys, and 30 for babies. Needless to say, the gear won't exactly come cheap. For now, prices are expected to go as low as $80 for baby items and all the way up to $320 for bigger-kids' coats.