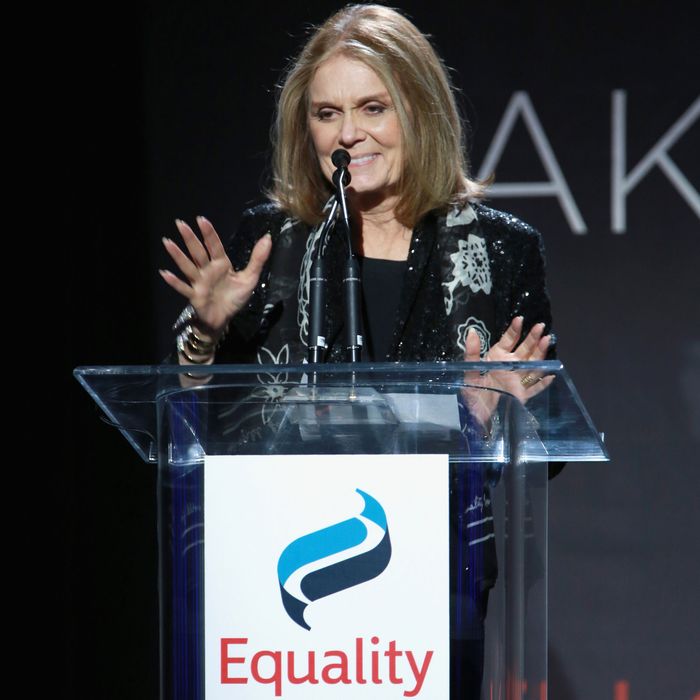 Gloria Steinem.
Photo: Jonathan Leibson/Getty Images for Equality Now
You rarely hear the word "compassion" associated with Donald Trump. The former reality star isn't exactly known for his advocacy work, nor his motivation to go out of his way to help those in pain. But compassion does allow us to understand what makes someone tick, so when we ran into Gloria Steinem along the red carpet of the Equality Now third annual "Make Equality Reality" gala at the Montage Hotel in Los Angeles on Monday, we asked her if it's possible to imagine, from a compassionate place, what might have made our soon-to-be 45th president into the person he is today.
"He's beyond trying to understand or explain. We just have to oppose him," said Steinem. "This is the first time a bully with no relevant expertise who is supported by the Ku Klux Klan is in power. All these issues that are not majority issues are supporting him and that is all very dangerous."
Steinem worked for New York Magazine and co-founded Ms., so we asked her how media can ensure balance when covering the news during such unprecedented times.
"You don't have to think about balance if you're thinking about truth," said Steinem. "Part of the way we got into this jam is false equivalency. If you ask this person a negative question, you have to ask that person a negative question. So with Hillary Clinton, all of the fact-checking services said she was the most honest candidate in the entire campaign, the most accurate in the entire campaign, and she was then asked as many negative questions as Trump who was the most lying candidate in the campaign. Well, we have to stop doing that. That is false equivalency. It's not about equivalency, it's about finding the facts."
And facts are available, she stressed: "There is an app that points out Trump's every single economic interest, every single product that you can then boycott," said Steinem. "He invested in Standing Rock and therefore it's a conflict of interest."
But what about fake news? Steinem, ever grounded, took things back to the individual: "We have to stop looking up, especially with Trump now, and start instead looking at each other," she said.
The author of, most recently, My Life on the Road, she has a new book coming out just before the inauguration that includes writing on Trump. "I compare him to a schoolyard bully because I think the experience of being bullied helps to explain his emotional impact. Also, it helps to explain why some people, even women, didn't want to identify with Hillary because they would be bullied, too."
So if we want to move forward, it's all about empowering women to seek more positions of power within the tangled political web, right?
"Yes, but not just any woman. I mean, Sarah Palin is not an option, ever."