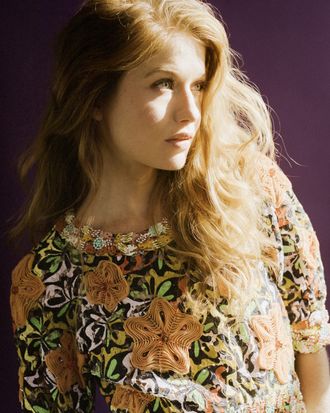 Despite not initially being considered for the role, when Genevieve Angelson read the part of Patti for Amazon's Good Girls Revolt, she knew it was meant for her. "I've never gotten to play the messy, wild, outspoken girl," she says. "I really wanted to play her." Good Girls Revolt is based on Lynn Povich's 2012 book that chronicles the landmark sex-discrimination lawsuit she and 45 other women filed against Newsweek in 1970.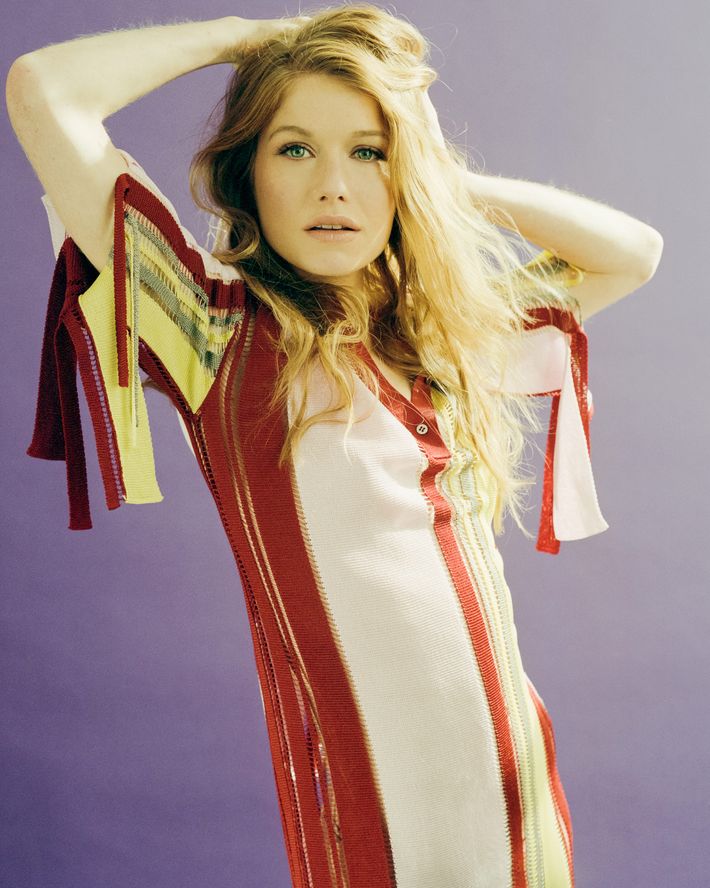 Dress by Marco de Vincenzo, price upon request at Marco de Vincenzo.
Angelson, whose previous credits include parts in Army Wives, The Good Wife, House of Lies, and Backstrom, began acting professionally at 22 (ancient by Hollywood standards). She cites an 'irrational sense of confidence' as the motivation to keep auditioning when most of her contemporaries had been on set since they were preteens. "I knew there was a chance I could be bad at acting, but I was afraid that if I didn't try, I'd end up an alcoholic," she says. "I don't know where I got this ridiculous voice in my head, but it's gotten me jobs. Like for Backstrom, I was the female lead opposite Rainn Wilson when I had no credits as a series regular. I just walked into that room being like, 'You know what? You're welcome. Here I am to solve your casting problem. I'm the solution.' I guess I've always had this pair of balls."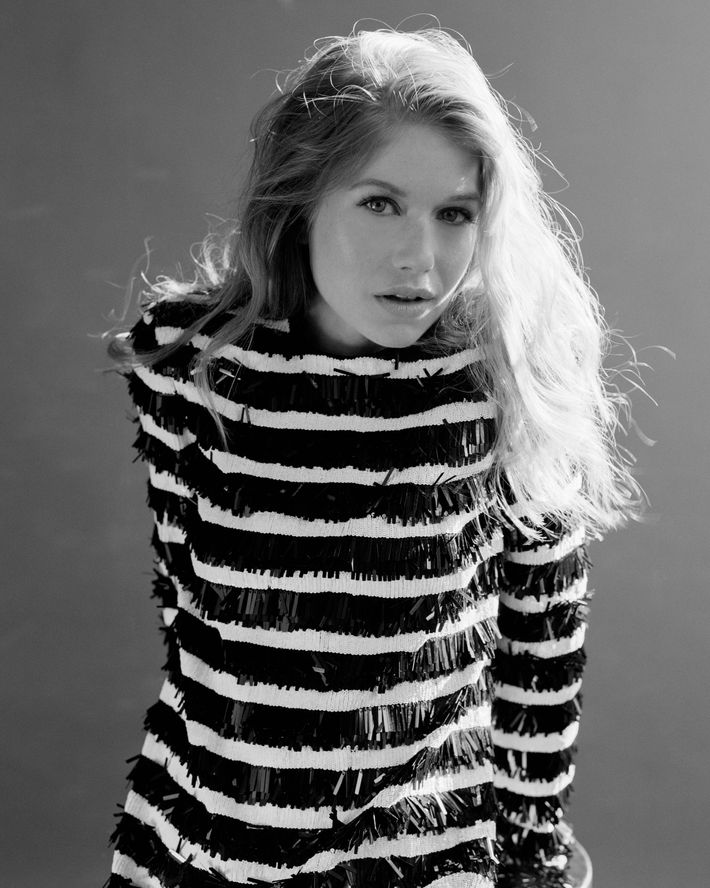 Dress by Michael Kors Collection, price upon request at Michael Kors.
While she's proven herself to be a fearless and adept actress, Angelson is quick to admit that such prowess doesn't translate to getting dressed. "When I was 10, I moved to New York and showed up on the first day of school wearing a turtleneck from Talbots Kids and white Velcro sneakers, with a skirt that was so long it was dragging. And I could just tell everyone around me thought I was a dork. Two girls turned to each other and said, 'We have to adopt her. She's a fashion victim.'"
Angelson brings that sense of being charmingly flawed to the character of Patti: She may not always make the best decisions, but she's firmly in the driver's seat. "It was just so interesting because I think at that moment as an actor, I was bottoming out with trying to be perfect," she says. "But I'm never going to be perfect. I'm never going to be Meryl Streep. All I can do is be honest and available and tell [my character's] truth. Patti came along at this moment where I was ready to be totally messy."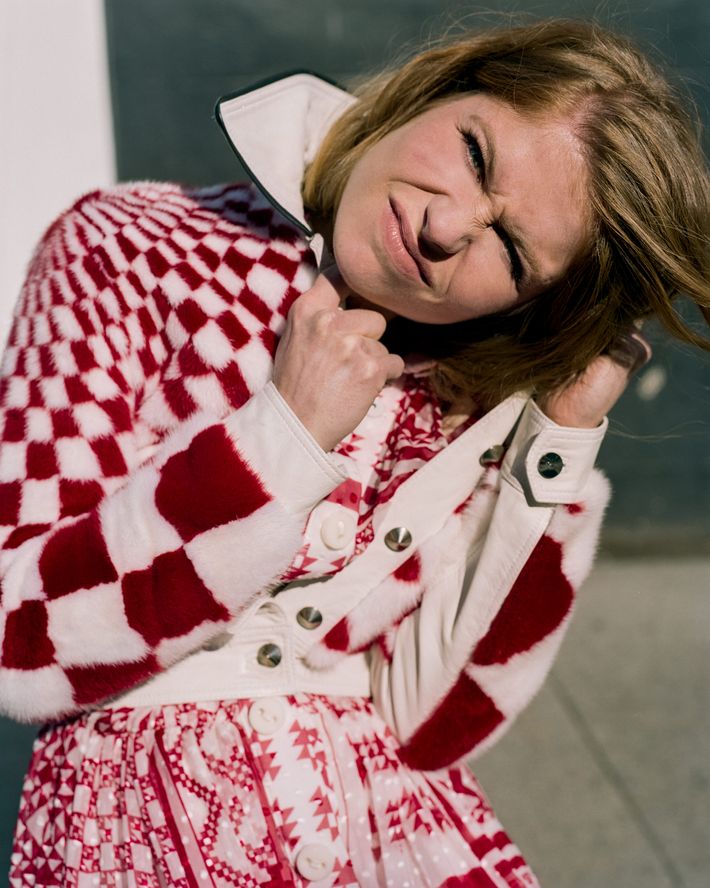 Dress and Jacket by Fendi, price upon request at Fendi.
Earlier this month, Amazon canceled the highly acclaimed series (ironically, the decision was made without the input of one woman). The Atlantic called the cancellation "infuriating," while several media outlets agreed. Good Girls' creator Dana Calvo even openly admitted on Twitter that the decision not to renew the show included no women in the conversation and told BuzzFeed, "Eighty percent of people who watched the first few minutes of the pilot stayed until the last minutes of the finale. We had twice the audience of Transparent." Angelson tweeted, "@Amazon I dunno what to tell women, scared of their own president, who ask why you canceled a hit feminist show 30 days in." Thankfully, Sony Pictures Television is already in talks to pick up Good Girls Revolt, and Angelson herself has a renewed motivation to fight for women's rights offscreen.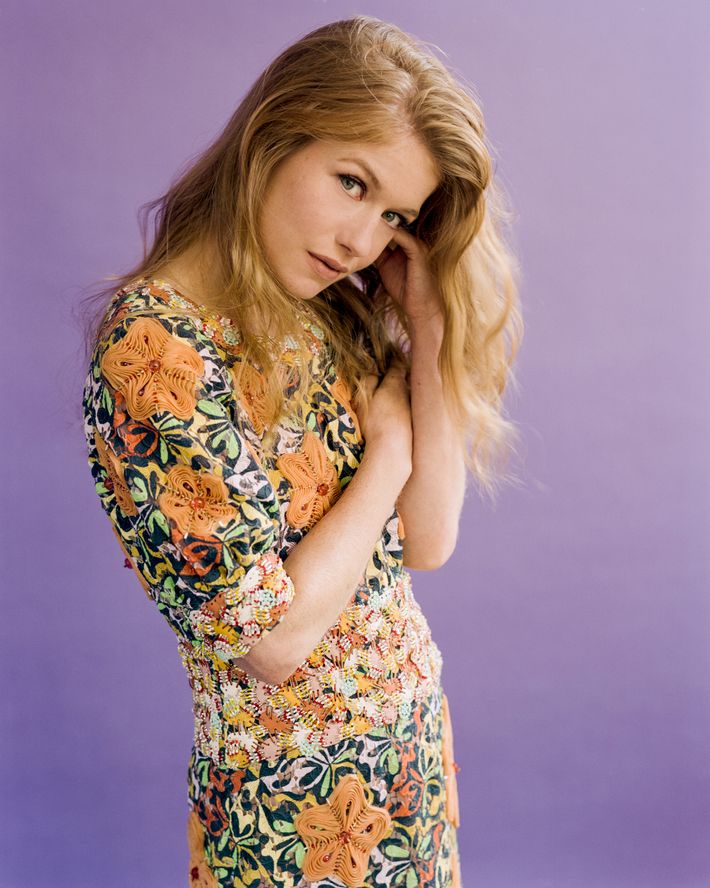 Dress by Chanel, price upon request at Chanel.
She a political force on Twitter, sharing ways to take action against Donald Trump's cabinet picks and posting information about women's reproductive rights, which are currently at risk in the president-elect's administration. "I think the work [ahead of women] has so much to do with our own attitudes towards ourselves," she says. "We're going to have a president who has openly admitted to molesting women, yet he was voted in by women. To believe that Donald Trump is what we deserve … it's devastating. The resolution lies in self-love and empowerment (at the risk of not sounding corny)."
Photos by Andre Wagner, Styling by Lindsay Peoples, Makeup by Rommy Najor, Hair by Jerome Cultrera.