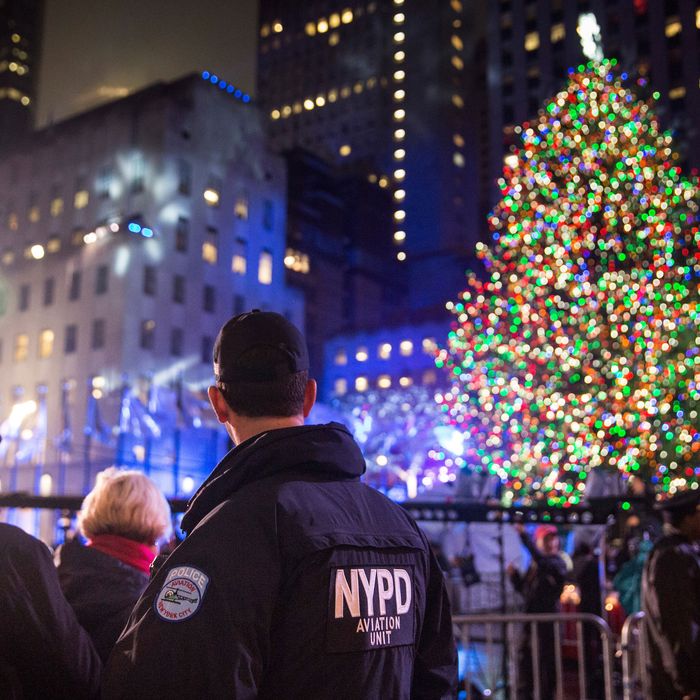 An NYPD officer near the Rockefeller Center Christmas tree.
Photo: Andrew Burton/Getty Images
When a New York City police officer recently witnessed a man grope a woman around the Rockefeller Center Christmas tree, he reportedly waited to make an arrest because of a policy that requires offenders to strike at least three times before they can do anything, according to DNAinfo New York.
The police officer in question, Joseph Pecora, told DNAinfo that officers "need to observe [groping] at least three times before making an arrest." Pecora noted that he had been told that groping cases only succeed in court if the suspect targets more than one victim. Therefore, instead of merely arresting 44-year-old suspect Atta Saad after observing him allegedly grope the first woman the evening of December 1, Pecora waited until Saad rubbed up against three other women as well.
A spokesperson for the Manhattan District Attorney's Office told DNAinfo that prosecutors don't have a three-victim policy regarding groping cases, and the NYPD said that officers make arrests in "a timely manner" when they observe instances of forcible touching. However, DNAinfo obtained court records for five suspected groping arrests between November 27, 2015, and December 1, 2016. Officers testified in each of the incidents that they watched the suspect grope multiple victims before making an arrest.
However, law-enforcement workers told DNAinfo that the policy is necessary. That's because it's hard to prove sexual intent when strangers touch, particularly in crowded places. A former NYPD Special Victims Unit detective told DNAinfo, "Anyone can accidentally brush up against, or trip forward to try to right themselves and use that as a ready defense. You could try to charge, but it would be almost impossible to prosecute."