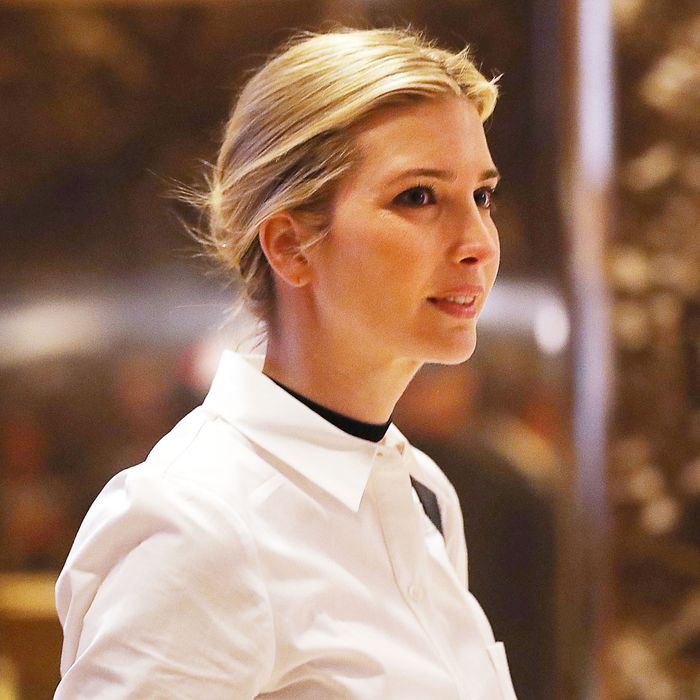 Ivanka Trump walks through the lobby of Trump Tower.
Photo: Spencer Platt/Getty Images
If you were thinking of donating thousands of dollars to spend 30 to 40 minutes drinking coffee with Ivanka Trump, the soon-to-be first daughter of the United States, think again. According to the New York Times, the Charitybuzz auction offering a coffee date with Ivanka has been taken down due to the potential conflict of interest it represents.
The bidding for a "private meet and greet" with Ivanka opened on December 5 at $8,000, but by Friday it had risen to $72,888. It was set to close on December 20, by which time it was expected to reach equally specific and astronomical heights.
In an interview, Eric Trump told the Times that he's still adjusting to the "new world" his dad's position represents. "We've done this every year," he said. "We utilized Charitybuzz to raise significant funds. Every single year we've auctioned off a lunch with one of ourselves. It's nothing more than an effort to raise a lot of money in an effort to help sick children."
Meanwhile Norm Eisen, who served as President Obama's ethics lawyer, explained that while the Obamas attended certain charity events, they never auctioned off access to themselves. "You never, ever want to have government officials using their public office for the private gain, even for a worthy charity," Mr. Eisen said. "That was how we did it."
This post has been updated throughout.